Home
What's New Today?
Authors @ TRS
TRS BLUE
The Rainbow Studio
Book-a-Day Giveaway
TRS @ Twitter
TRS @ Facebook
TRS @ Tumblr
TRS @ Pinterest
TRS Blog
Advertising, services & ala carte
Drawings & Giveaways
Reviews
Request a review
Workshops
About us
Just Released
Romance News
New! Submission Calls
Feature Archives
Articles
Sneak Previews
Search our database
Writing Contests
Conferences
Facebook Share Project

A groom sets out to seduce his reluctant bride with exotic lessons in lovemaking... from the Kama Sutra.

For storm chaser Quinn Smith, bad weather isn't the only vortex on the horizon.

Chamber is loaded, on the edge of the knife. Could you pull the trigger to save your own life?

Will Angelica realize that nothing will ever compare to being claimed by her panthers?

Limited Time - 99 cents. When I'm with you, nothing else matters.

A secretive lady meets her match in a curious barrister in this sweet Regency romance.

On the run, Mac and Eve must learn to trust each other again in order to stay alive.

Nurse Amy Smithfield finds love on the French battlefields, but risks losing it in the slums of London's East end.

Two men, one woman, and a romantic vineyard. Summer's never been this hot... (Tastes of Seduction, Book 1)

Bad boy meets good girl and sparks fly!

She's not right for his world, and he's not what she expected. Destined lovers don't always have it easier.

A seductive agent, a disillusioned lord, and a web of deceit only they can untangle...

When Nell attracts the attention of the mob, a handsome homicide detective may be her only chance of surviving the Big Easy.

Zoey uses her own brand of whoop-ass to discourage a Warlord's pursuit.

The Vespian ambassador exudes pheromones that pushes people's emotions. If Heather is immune what makes her desire skyrocket whenever Storm's around?

Madison Harper and Lance Dalton bring out the worst in each other. Can these two embittered souls possibly find love?

It takes discipline to play the game.

How can you have a future when you can't remember your past. Forgotten Past by Mary Alford -- June 2014

Werewolves, Fairies and Vampires -- oh my! Join the Andrews brothers and their cousins as they fight for the women they love.

Angels and Demons! Werewolf Colin Tierney is faced with a battle between his pack and a band of demons -- only Heaven can help him.

Can a relationship be salvaged after being apart for 10 yrs? Gabe and Cassi struggle to get beyond their past.

An irresistible adversary, a secret, and unexpected love. Erin Cameron struggles against them all in this romantic, humorous novella.

Golden tiger Mitch meets white tiger royalty and finds a woman too compelling to resist. Order Now! Releases 5/5/14.

A legendary family estate. A mutual longing. A bargain struck. THE BURLINGTON MANOR AFFAIR.

Even with her world poised to shatter, Sar remains determined to make the tumultuous relationship with her three lovers work.

Madeline returns to the Chalet, and discovers a seductive spirit that has waited decades to claim her for its own.

In 1916, on the French battlefields, a dying soldier's confession has the power to ruin the woman he loves.

Kenneth believes everything—even love—can be solved logically, until he meets a flower child who challenges him at every turn.

Adam & Sheila by Diane Davis White

Deidre learned her lesson about getting involved with dangerously irresistible men the hard way. She doesn't plan to do it again...

She awoke in the future, captive to an alien lord.

Sent back in time, Gwen meets the man of her dreams.

A beast trapped inside her, Annwn fears she will never find happiness with the man she loves.

With a bit of magic, a man and a woman learn to love each other.

In her love for him she defied an army, in his desire for freedom he defied an entire Empire.

You might never look at Atlantis the same way again...

Sarah needs Arthur to fight a claim to her late husband's estate -- if only they didn't loathe each other.

Reincarnation brought them to 1876 America. Will Jesse James tear them apart?

Opposites attract but will it be love or death when fae and vampire come together?

Catching the one that got away could be the ultimate ride.

Their love is a force. It will be sorely tested.

Can one woman heal the battered heart of the Overlord?

With a train ticket, a bad attitude, & obscenities scribbled across her forehead, seventeen-year-old Avery Ross is sent to live with her aunt.

Where there's a will, there is most definitely a wife.

While the road to love is rocky, it shouldn't resemble a Spartan obstacle course! Or should it?

A vampire's heart is not meant to beat this fast.

All it takes is faith, trust, and fairy dust. A swift kick never hurts, either.

Sometimes even a fairy godmother needs to call for backup.

Sometimes love finds you when you least expect it.

When your lover is a vampire, the promise of forever love takes on a whole new meaning...Promise Me

A fashion consultant trades garters for guns as survival when she falls for a groom's sullen brother.

This one time, at band camp... aliens invaded earth. Sounds like a bad riff on an old joke, but unfortunately, it's true.

Two Sphinx lovers, Jacob and Eleina, survive the cold hands of death and triumph against the odds saving the Sphinx and the World.

A courtesan learns to readjust her snobbish attitude after a lord of London's Underworld rescues her from abuse by a marquess.

When an English rogue is asked to save the life of a young Canadian heiress, his wandering days are over.

A young woman encounters murder, witchcraft, mid-summer revels, and the lord of the manor, who may be a murderer.

Regency Darkside. The story of a young lady who must learn to make her own way in the world.

Their attraction is instant and their love will bring down a Queen and change the mortal world forever.

It'll take a special man to teach her to live again.

Cicely faces the final battle against Myst, Queen of the Indigo Court, for control of the Golden Wood.

Illicit love between wolf shifter gypsy lady with fantastic special powers and sexy Catholic priest.

Romance/saga spanning two generations set in Hungary, NY, and Saratoga Springs.

Time travel historical romance interwoven with reincarnation. Modern day and 1776 Boston.

When her passion and spirit clash with his tangled conflict of duty and desire, their hearts and very lives will be in danger!

"Incredibly tantalizing. The perfect conclusion to this fantasy romance series."

"I don't usually read fantasy romance, but I may have to start because this one was wonderful."

This fantasy romance novella should definitely be on your TBR list. ~She Loves to Read~

The key would unlock his future, but he never imagined the sorceress would unlock his heart...

An ancient evil, old vendettas and unsettling truths--can Raine & Gavin untangle the threads before it's too late?

Zachriel wants payback. Royanne wants freedom. Capturing her reveals his past. Can these two demons find love and a future together?

Book One in the Sisterhood of Jade Series by Billi Jean.

Werewolf friend or vampire lover? Her choices could mean life or death for both.

Once Jonathan notices the beautiful Katrina, he starts preachin' to the choir. But will Kat let him?

A sexy tomb raider, a charismatic ex-lover, and an ancient weapon with a taste for blood.

A desperate mother. A Mexican drug lord. A dangerous match.

Falling head over heels has never felt so good.

Storm contends with his feelings for his brother's girlfriend, while formulating a plan to finish off the evil empath out for Honor's blood, once and for all.

A detective determined to solve the murder of an ADA risks his life to protect the man's widow… the only woman he has ever loved.

He's the perfect guy, if only she could get rid of him.

When danger threatens Heather's life, will Xavier be able to rescue her?

What happens if your consent to marry is not FREELY GIVEN? Kindle price: 99cents.

She's not right for his world, and he's not what she expected. Destined lovers don't always have it easier.

What happens when a hot rock star and a feisty pr agent collide. Result? #Aftershock

The Kinnison Brothers are back! Summer on the ranch just got a little hotter.

Vacations are supposed to end, but her heart longs to stay in Freewill. Can Garrett convince her they were meant to be together?

Thrown together by fate, will they discover there is a fine line between scorn and passion?

A handsome med student learns how to stop and smell the roses from a flirty, sexy teacher. (FREE)

A beautiful princess, whose best friend is a cheetah, is torn between two very different brothers—and the fate of a kingdom rests on her decision.

Some evils just won't stay buried...

In the Highlands, two centuries of unforgiving sins blur the boundaries of friend and foe.

Gertie Sugarbaker didn't mean to release the demon that her Grandmother trapped fifty years ago. How does she send him back to hell?

When Meredith stumbles into a new identity and a new life in a small town in Alaska, she finds it's not so easy to leave behind the baggage from her past.

Charity hockey romance anthology from some of sports romance's hottest authors! All proceeds contributed to Hockey Fights Cancer. Read a smokin' book and help out a great cause at the same time! Drop the gloves and fight...cancer. 

Jefferson and Eva must face danger, sex, love and understanding if there is any hope for them to find happiness.

He'll break every law to have her...

Animal rights activist and gorgeous Marine look for a killer. Will they resist the pull of attraction during the mission?

A new Alpha must stake his claim, on his pack and on his woman. But will she let him?

Book Two of the McKay's: Letty McKay stands to inherit a fortune, Hank Silver knows it, and he wants nothing to do with a gal he can't support in the style she's accustomed to.

Can Catherine accept the consequences of a great-aunt's dying wish without losing her heart or independence?

Book 1 of the Moonlight and Jasmine series, Night Magic is Coming to Secret Cravings Publishing on April 9.

Candy Arnold inherits a ranch in the Panhandle of Texas, then all hell breaks loose, she's shot at, and stolen from, her could it be her sexy neighbor who wants her off the land? Who can she trust.

If the undeniable passion between these two doesn't keep them together, the mouth-watering food will.

A warrior, a maiden... and a passion that could set the whole world aflame. Now in Print!

A tortured vampire, a lonely shifter, and a deadly power struggle of supernatural proportions. Can their forbidden love prevail?

She needs his protection. He needs the Elixxir. Secrets, lies, and love's loyalties tested. What price for immortality? What price for love?

Computer Nerd meets Cartel Lord in this 5th Blackthorne, Inc. action adventure romantic suspense. "A sexy thriller" says Gumshoe Reviews.

A powerful vampire lost deep in bloodlust. A woman willing to risk all to redeem him. Can beauty save the beast? Find out http://www.felicityheaton.co.uk

A notorious rake catches a beautiful thief stealing his valuable family heirloom. On sale now! Only $2.99 for a limited time.

Can Erin unlock the heart of a hot alpha Hell's angel bent on revenge? Find out in the latest Her Angel series book. http://www.felicityheaton.co.uk?

Now is Tradesize and Kindle from Montlake Publishing

Historical Romance: The rugged sheriff falls for the town darling.

Kelly Ray had never done a double take in her life, until now.

The Crime of the Centry by JoAnne Myers - This 1982 double homicide shocked the Nation and destroyed families.

Wicked Intentions by JoAnne Myers - a paranormal/mystery anthology PG-13.

When this unusual shifter female comes into his pack's territory, it's Tom Silver's job to protect her -- if only she would let him.

How is he going to hold onto the wild-cat woman without losing his heart to her and then losing her as well?

Book 2 – Sisters of Colford Hall
Now is Tradesize and Kindle from Montlake Publishing
Gayle Wilson Award of Excellence Winner

Unlikely suspects with misunderstood agendas cripple the horse industry and leave everyone to question the motivation behind the senseless killings.

He needs her for his clan. He wants her for himself. Can he have both?

A grand passion in an apocalyptic world. A love beyond reason and without boundaries.

A nightclub owner struggles to makes peace with her vampire family, destiny, and soul mate. Vampires, love, mayhem...join the club.

A controversial romance set against the backdrop of the 80s, movie stars, and rock-n-roll.

A missing aunt, family secrets, the reappearance of an ex-fiancé: could things get more complicated?

Ashton's Secret blends romance and mystery with exceptional skill.  ~ Snippet from one of three Five Star Reviews

I absolutely love this book...Emily and Eric are perfect for each other. ~ Five Hearts from The Romance Studio

Four tales of paranormal and urban fantasy, from sweet to sinful. Shape shifters, witches, reapers, protectors, find them all here.

'I always enjoy Jewels of the Quills Treasure Trove anthologies. The characters are easy to connect with and invoke imagination. It's hard to pick out a favorite as they're all terrific.' ~Readers Favorite

This book was an absolute treasure—surprisingly in-depth with an original plot and characters to die for! ~ The Romance Studio
Latest happenings at The Romance Studio.
Dumah's Demons: An AngelFire Chronicles by Ami Blackwelder
Posted by: TRS Staff
2014-04-23 -
Dumah's Demons: An AngelFire Chronicles by Ami Blackwelder
This novella works as a stand alone, or you might read She Speaks to Angels first, this novella second, and Falling Angles third, followed by the last book in the series Angel Codes.
More info http://amiblackwelder.blogpsot.com
Summary: The story of Dumah, Kian's sister and how she becomes a Dark Angel. The reader will better understand Dameon and Kian through this story which is told through the eyes of Dumah.
Follow her story as she and Kian fight to survive on the streets of Manhattan and see how one event changes both of their lives forever, driving her toward darkness of the Dark Angels and Kian toward the AngelFire protectors.
If you've read SHE SPEAKS TO ANGELS this is a great way to understand the motives of Dameon, Kian and Dumah. Dumah is found in Falling Angels. "Oh WOW! Talk about caught up in the story that I couldn't believe that Dumah's story ended and I can't wait to read Ms. Blackwelder's next!!"
Midwife to Destiny by Nana Prah
Posted by: TRS Staff
2014-04-23 -
Midwife to Destiny by Nana Prah
Ghanaian nurse Aurora 'Ora' Aikins never expected to find the love of her life while on vacation in South Africa. Engaged to another and believing that love has no place in her life, she returns to Ghana, and puts duty and honor first.
Three years later, Dr. Jason Lartey still can't get Ora out of his mind or his heart. After learning she never married, he takes a risk and moves to Ghana hoping to rekindle what they started. His sudden appearance in Ora's Emergency Department sends sparks flying all over again.
They're in the same country, working in the same hospital, and together but distance creeps between them. Can they make their destined love one for the ages?
"Midwife To Destiny by Nana Prah, is Book One in the Destiny Series and she has begun the series with a fun, entertaining, and sweet romance full of lively & vibrant characters." ~Debbie Christiana
"Nana Prah has written a beautiful, gentle, sweet and yet moving romance set in South Africa and Ghana." ~Celestine Nudanu
Rescue Me by Olivia Starke
Posted by: TRS Staff
2014-04-22 -
Rescue Me by Olivia Starke
When Abigail Winter's stepsister sets her up with 1Night Stand, she can't deny she needs a night away from the constant worry. Her cat rescue A Purrfect Home is in danger of closing, and she's nearly out of options. And, as it turns out, her date, Carlita, is gorgeous with soft curves that leave Abigail hungry for a taste. A perfect and passionate distraction for the evening.
Carlita Menedez is thrilled when to lay eyes on, Abigail Beautiful, and an animal lover, who more perfect for a former veterinarian? Her lithe form proves irresistible, and her kisses incredible. Their chemistry sizzles and when they come together, they find pure bliss in one another's arms.
But disaster steals their night, and A Purrfect Home may already be lost. Will Carlita be the one person who can help Abigail save everything she's worked so hard for?
Wolf at the Door by NJ Walters
Posted by: TRS Staff
2014-04-22 -
Wolf at the Door by NJ Walters
When this wolf comes knocking, there's no turning him away.
Salvation Pack, Book 1
When Gwendolyn Jones inherits a Tennessee cabin from a great aunt she never knew, she quits her job and follows her dream to write full time. Meeting a stranger in a local cemetery isn't a risk she normally takes, but she needs the information on his flash drive for an article she's writing on werewolves. Later that night, when two honest-to-God werewolves come knocking on her cabin door, they're definitely not Photoshopped.
Jacque LaForge is on a mission to retrieve a flash drive before it endangers his pack. He never thought he'd find a mate, but the chemistry between him and Gwen is unmistakably off the charts. Now to convince her he's only trying to protect her from his vengeful former pack—led by his own father.
Gwen's first instinct to flee only gets her a smashed car and a concussion. She wakes up in a dangerous new world she never thought existed—and in the arms of the one man who stands between her and certain death.
GAMBLING ON A HEART, book 2 of The Colton Gamblers by Sara Walter Ellwood
Posted by: TRS Staff
2014-04-21 -
GAMBLING ON A HEART, book 2 of The Colton Gamblers by Sara Walter Ellwood
She once lost his heart on a bluff. Will she risk everything to win it back?
Beautician Tracy Quinn spends her days making the women of Colton, Texas beautiful, while living down the nickname of Olive Oyl, given to her by the only man she has ever loved—Zack Cartwright. She spends her nights alone, despite what her ex husband wants their friends and neighbors to think.
Ex-rodeo cowboy. Ex-bad-boy. Ex-Marine. Widower and single dad Sheriff Zack Cartwright can describe his life in exes. One ex in particular reminds him of what's missing in his workaholic life: Tracy Quinn. For years since she broke his heart, he's practically made avoiding her a second job. He still wants her, but can never go after her.
When cattle rustlers target her brother's ranch, Tracy and Zack are stuck working together. Her son could use a positive male role model, and his daughter is wild for a chance at a "substitute" mom. But Tracy's ex threatens to sue if she lets Zack near her son, and the Colton grapevine is abuzz with rumors about their past relationship. Is it worth the gamble to see if what they have is more than lust?
She once lost his heart on a bluff. Will she risk everything to win it back?
"I adore a good Contemporary Cowboy Romance. Gambling on a Secret, the book prior to this one in the series was one of my all-time favorite books so I have been eagerly anticipating the arrival of Gambling on a Heart… Just like in a real person's life, especially in a small town, [the secondary characters] are all mixed into the day to day lives of each other. Sara captured that fact beautifully.
The other aspects of life Sara captures extremely well are the pain and emotions that Zach and Tracy both have to work through and the connection they find in their intimacy. Due to both of these things, this is a book for adults. This book brings closure to many things and ends just as I had hoped." - 5 Star review at Sniffer Walk Books
"I love a good second chance romance and this has that in spades. The misunderstandings, the way people change over time, and the new feelings that mix with the old. Gambling on a Heart is well written with just enough romance and drama to really make things interesting and keep you turning each and every page wondering what could possibly happen next!" — 4 Star review at Illustrious Illusions
"Those that have read Gambling on a Secret will remember Tracy and Zack. Well, they are back in their own story in Gambling on a Heart. Just like any other book written by Ms. Ellwood, this one is full of emotional conflict, drama and of course that well deserved happy ending… Sara Walter Ellwood has me hooked, but that's okay because I know when I read one of her stories that I'm in for a treat." — 4 Star review at Storm Goddess Book Reviews
"There is PLENTY of drama, which only has you cheering on Zack and Tracy and hoping that nothing else will stand in the way of their reunion. Ex-husbands, Children, Careers, and those old hurts all cause issues for these two, and I enjoyed every page!!…If you have read the first book, GAMBLING ON A SECRET, they you will truly enjoy Zack and Tracy's story, but it can also be read as a stand alone. If you have a nice day at the beach, grab this one up. Why not take a GAMBLE!!" — A Tasty Read Book Reviews
"I really enjoyed this story and loved the way it was written. Both characters had things that they needed to deal with from their pasts and it was great being on that ride with them. A must read for the summer." — Romancing the Readers
Rustler's Heart by Amanda McIntyre
Posted by: TRS Staff
2014-04-21 -
Rustler's Heart by Amanda McIntyre
Orphaned by tragedy, Rein Mackenzie was taken in by his benevolent uncle at the Kinnison ranch alongside two others abandoned at a young age. Now, he and his 'brothers' carry on Jed Kinnison's dream of making the ranch a haven for those who need hope. But when a woman arrives claiming to be related to the Kinnisons, she brings danger—not only to his heart, but to those he calls family. Liberty's presence is a surprise to the family she's never met, and while she yearns to belong, she knows her presence is a reminder of their painful past. Fearless, she dives in, losing her heart to the ranch, to the community, and to an unexpected summer fling.
But when dangers from her past catch up to her, they may cost her everyone and everything she has come to love.
"The dialogue is snappy and all the characters are memorable. Amanda McIntyre has done it again with this entertaining and solid story." ~Review by Rosemary
"I recommend this book, especially if you love Country Cowboys! This author is a great writer and I love reading her stories." ~Review by Nicole Laverdure
"You will not be able to put it down until the last page!" ~Review by Debra
Complete Me by Catherine Peace
Posted by: TRS Staff
2014-04-21 -
Complete Me by Catherine Peace
A romance author who needs to love...
Best-selling romance author Claire Ergleston confines her passions to the pages of her books, afraid of being hurt again. When she receives a 1Night Stand date "to give her something to talk about in interviews," can she let herself be swept away?
A rock star who needs to let go...
The past has a chokehold on former rock star Ty Krause. Instead of killer tunes, he kills time writing passable songs for a British boy band and spends his nights wishing he had the balls to say good-bye. In a last ditch effort to move on, he signs up for 1Night Stand, thinking that a night of no-strings-attached sex will help him break the leash of his past.
From the moment Claire and Ty meet, sparks fly—but can they overcome their pasts or will their potential love story end on a sour note.
Waltz Back to Texas by MJ Fredrick
Posted by: TRS Staff
2014-04-21 -
Waltz Back to Texas by MJ Fredrick
Welcome to Evansville, a sleepy Texas town on the verge of a boom.
After growing up in a dying town, with only two restaurants, no movie theater, and no future, waitress Cassidy Simon wants out. For once, luck is on her side when the oil boom comes to South Texas. She's determined to use it for her advantage, starting up an RV park for the oilfield workers to add to her escape fund. She's never been out of Texas, and she's itching for adventure.
Grady McKenna couldn't get away from his family's ranch fast enough when he was a teenager, but a tour in the Air Force in the Middle East is enough to convince him there's no place like home. He's seen the world, had his adventure. Now he's ready to contribute to his family's legacy in Evansville.
Naturally, the woman who draws his attention is the one intent on slipping through his fingers. How can he convince her life with him will be all the adventure she needs?
Reyn's Redemption by Beth Cornelison
Posted by: TRS Staff
2014-04-21 -
Reyn's Redemption by Beth Cornelison
When fireman Reyn Erikson returns to the Louisiana town that branded him a killer, he encounters two flashpoints: his grandmother's plea to investigate his mother's death. And sexy Olivia Crenshaw. As Reyn and Olivia search for answers, they fight a sizzling attraction and a killer who's come out of hiding….
"Beth Cornelison wows her readers with her titillating story line/plot with this tense, edge of your seat, page turning thriller. She is a wonderful storyteller as is evident in her edgy, descriptive, flowing dialogue. Her exceptional characters… jump from the pages screaming 'Read Me'." — Larkspur, Long and Short Reviews
"Beth Cornelison shined in this book Reyn's Redemption and made it a favorite for this reviewer. Beth Cornelison definitely knows about suspense, romance and passion making Reyn's Redemption highly recommended by this reviewer. Loved it. Rated 5 Ravens by Lena!— BlackRaven's Reviews
Stalking You by Tara Fox Hall
Posted by: TRS Staff
2014-04-21 -
Stalking You by Tara Fox Hall
A woman on the run from the man who killed her family stops, against her better judgment, to lose herself in a night of passion. When her stalker finds them, the hunter becomes the hunted.
Forgotten Past by Mary Alford
Posted by: TRS Staff
2014-04-21 -
Forgotten Past by Mary Alford
Faith McKenzie was the only survivor of a brutal home invasion. Viciously attacked and left for dead, Faith can't remember anything about that night—including the identity of the killer. All she knows is that he's stalking her from every place she flees and has tracked her to a small Maine island. Her neighbor, private investigator and security specialist JT Wyatt, rescues her twice. Now JT is insisting on the whole story—a story that Faith can't remember. Desperate to feel safe, Faith puts her trust in the handsome P.I. Yet a killer is dead set on ensuring that Faith's memory never returns.
Buy it today!
Biting Nixie (Biting Love Book 2) by Mary Hughes
Posted by: TRS Staff
2014-04-19 -
Biting Nixie (Biting Love Book 2) by Mary Hughes
Nitro? Meet glycerin…
Punk musician Nixie Schmeling is a hundred pounds of Attitude who spells authority a-n-c-h-o-r and thinks buying insurance is just one more step toward death. So she really feels played when she's "volunteered" to run the town's first annual fundraising festival. Especially when she finds out it's to pay for a heavy-hitting, suit-wearing lawyer—who's six-feet-plus of black-haired, blue-eyed sex on a stick.
Attorney Julian Emerson learned centuries ago that the only way to contain his dangerous nature is to stay buttoned up. He's come from Boston to defend the town from a shady group of suits…and an even shadier gang of vampires. But his biggest problem is Nixie, who shreds his self-control.
Nixie doesn't get why the faphead shyster doesn't understand her. Julian wishes Nixie would speak a known language…like Sanskrit. Even if they manage to foil the bloodthirsty gang, what future is there for a tiny punk rocker and a blue-blooded skyscraper?
And that's before Nixie finds out Julian's a vampire…
Warning: Contains more eye-popping sex, ear-popping language and gut-popping laughs than can possibly be good for you. And vampires. Not sippy-neck wimps, but burning beacons of raw sexuality—this means passionate blood-heating, violent bloodletting, and fangy bloodsucking. Oh, and cheese balls. Those things are just scary. (This title contains explicit sexual language.)
**Fallen Angel Reviews Recommended Read; Joyfully Reviewed Joyfully Recommended; Guilty Pleasures Book Reviews A True Gem; All Romance Ebooks Staff Pick
Joyfully Recommended "…Biting Nixie is a rockin' thrill ride of action, lust, and romance…I adored this book and hope Mary Hughes has stories planned for some of the vampires we meet…" ~ Reviewed by Shayna for Joyfully Reviewed
Light My World by Zee Monodee
Posted by: TRS Staff
2014-04-19 -
Light My World by Zee Monodee
So what if a girl has to kiss a few frogs to find her prince?
Tired of her Indian-origin mother's relentless matchmaking, Diya Hemant is determined to find her Prince Charming on her terms. Armed with a definitive list of requirements, she is sure she'll know her man when she meets him…
But looking and finding are two different things, especially on the tiny island of Mauritius… When her path crosses surly British widower Trent Garrison's, it's hate at first sight. And though fate keeps pitting her against him, she's certain he can't be turned into a frog let alone a prince. Can this modern-day princess overcome her own expectations and see beyond the ogre to the man beneath?
"Zee Monodee has done it again, she's touched my heart with her Island Girls. Not only do I feel as if I'm in Mauritius when I'm reading these stories, but I'm also entwined within the family dynamics and the whole natural flow of events." ~Review by JoAnne
"Easy to get lost in. The settings and descriptions are lovely, and the characters are well developed, with the plot unfolding at a sustained pace." ~Review by Jane
"I loved the interplay with the kids in this book. The last quarter of the book had me drying my eyes several times, glad no one was around to see me blubbering. What a romantic ending!" ~Review by LeenBee
"A definite Must Read" ~Lynn Spangler
Finding Home by Jackie Weger
Posted by: TRS Staff
2014-04-19 -
Finding Home by Jackie Weger
Free from 4/19-4/23!
Twenty-four year old Phoebe Hawley is on a quest to find her family a home. On the road with two siblings, twelve year-old Maydean and five year-old Willie-Boy, Phoebe is out of money, out of gas and out of patience. Now the only things she owns in abundance are Hawley backbone and Hawley pride—neither of which she can trade for food or gas. A collision with Gage Morgan puts Phoebe's mission in even worse jeopardy—until Phoebe discovers Gage
Morgan owns the perfect place for the Hawley clan. But! Gage Morgan has a bruised ego, a tight fist on his land and an iron fist on his heart and is the unlikeliest man in the universe to succumb to her schemes. Phoebe wields all of the pride, backbone and country smarts she owns to claim his home, plow his land and pilfer his heart. Nothing works. With time running against her family, she plies one last inducement—her scarce feminine wiles…Will it be enough?
The Billionaire Princess by Christina Tetreault
Posted by: TRS Staff
2014-04-19 -
The Billionaire Princess by Christina Tetreault
With 50 Star Reviews The Billionaire Princess is on sale for only .99 cents.
She was raised as an American Princess
Following the betrayal of a former lover, Sara Sherbrooke swore off relationships, too afraid she would be used again. Instead she has devoted all her energy to succeeding in politics without relying on her family name. That is until one night in Hawaii with her brother's best friend Christopher Hall.
He is a self-made billionaire
Technological genius and CEO of Hall Technology, Christopher Hall first met Sara Sherbrooke when he and Jake Sherbrooke were college roommates. While attending Jake's wedding in Hawaii, Christopher is reintroduced to Sara, a beauty who was once way out of his league. But now as the most eligible bachelor in Silicon Valley, the only thing stopping Christopher from pursuing Sara is the thought of betraying his best friend.
As they work together to promote a new education initiative, neither can deny the attraction between them. But will their growing romance be worth all of the consequences?
"I Love The way Christina Tetreault writes Sara's story..She reintroduces us to Sara's family but doesn't over whelm the story with them…Sara may seem like a tough independent woman..but the betrayal and hurt she's had before remains hidden yet always there in her life to influence her decisions and make her doubt her self… The hidden stress continues to affect her family and personal life.."
Roses of Ridgeway: Volume 1 by Kianna Alexander
Posted by: TRS Staff
2014-04-19 -
Roses of Ridgeway: Volume 1 by Kianna Alexander
3 Amazon Bestselling Historical Romances in one
"There is so much to enjoy. The friendships of the ladies and the men of Ridgeway only draw one more into the story."
"The book held my interest from the first page to the last."
"This is clean enough to share with young and old readers."
His Alien Virgin by Jessica E. Subject
Posted by: TRS Staff
2014-04-18 -
His Alien Virgin by Jessica E. Subject
On the eve of her twenty-first birthday, Skylar steals a ship and escapes from the planet Rebed. She refuses to be another wife for the slimy space pirate that is her betrothed. After hearing of her brothers' success, she applies to the 1Night Stand service on her way to Earth, hoping Madame Eve can find her a hero, to make her feel special, even if for only one night…
Her Summer With The Marine by Susan Meier
Posted by: TRS Staff
2014-04-18 -
Her Summer With The Marine by Susan Meier
Their competition has never been so irresistible The last person Ellie McDermott wanted to run into after returning to her hometown is Finn Donovan, her high school nemesis and the guy she crossed the line from enemies to lovers with one night years ago. Now ex-military, tattooed, and still sexy as hell, Finn is a complication Ellie doesn't need—she needs to concentrate on saving her family business. Finn's entire life, Ellie was there, going head-to-head with him in every class, bee, and test. So it's no surprise she'd show up just as he was about to take over her father's struggling business. It is a surprise, though, that his attraction to her is even more explosive than it had been. Acting on their attraction is one thing, but Finn has to turn a profit to save his own family, and nothing—not even love—will get in his way.
"JUST GO READ IT! You will laugh, you will cry, and you'll get to read about Ellie and Finn's SCORCHING chemistry!" Book Junkie: Not-So-Anonymous
"Her Summer with the Marine is a fun, sexy frenemies to lovers story.They both have feelings for each other, or at least desires, but they are competing for their lives (or the lives of their parents, really). The tension this causes is spectacular, and when they give in to their desires, the scenes are HOT! Bliss readers who have been looking for a little more steam will be thoroughly satisfied. And readers who love a small town, enemies (or frenemies) to lovers story, will be in heaven." lchardesty
NEW RELEASE - The Biggest Poser - IR Romantic Suspense
Posted by: Sam Cheever
2014-04-18 -




May the biggest liar win. Or die trying! Personal trainer for the ever popular, Lose it! reality show, Jillie Maxwell is up for the most important award of her career. And she's competing against the biggest b-eye-itch she's ever met. Fortunately for her, she has the sexiest man alive in her corner. Problem is, each and every one of them has a dirty little secret that could tank a career. For the contestants, the race is on to lose the most weight and win everything. For the staff of the popular weight loss show, the clock is ticking to the culmination of their lies and the possibility of losing it all. Will the Biggest Poser win? Or will the lies just grow and grow until they sink the whole show? Only one thing is certain. Whatever happens, it's gonna be an entertaining ride!

Buy The Biggest Poser today!
Frontier Inferno by Kate Richards
Posted by: TRS Staff
2014-04-18 -
Frontier Inferno by Kate Richards
Calendar Men – Mr. April
For Heather, Castle, Alaska offers many surprises. A new job—as a nanny of all things—a handsome firefighter whose charisma proves a distraction from her plans, and the danger of discovery. Heather may have to hightail it out of Castle and into the wilderness, or risk being dragged back into the very situation she'd fled.
Romance takes a backseat for single dad Chris Elder, while he focuses on his young son and his job as a firefighter/smokejumper in the small community of Castle. But the arrival of the feisty woman from the lower forty-eight may prove more than his resolutions, or his libido, can handle. Can the magic of Alaska save these two from a lonely future, or will circumstances force them to step back from their Frontier Inferno?
Pippa's Fantasy by Donna Gallagher
Posted by: TRS Staff
2014-04-17 -
Pippa's Fantasy by Donna Gallagher
Book four in the League of Love Series
What's a girl to do when her fantasy is within reach? Grab it with both hands, of course—then try to live with the consequences.
He was her childhood crush, her fantasy man. Pippa spent her teenage years surrounded by players from the Sydney Jets rugby league team, the fit and muscular bodies that made up the team her father used to coach an ever-present part of her formative years. But he is the only one of that group of high-profile men who has ever caught her interest. From the moment Pippa first set eyes on the handsome future star, he owned her heart. Mitchell 'the Rookie' Harris sauntered into her life and nothing has been the same since.
The problem for Pippa becomes twofold when she meets Rook again after years apart. Now there is the moral dilemma that, as she is signing on as physiotherapist for the Jets team in a few days, she is fully aware of the 'no fraternisation' rule. But then there's the reality that her heartthrob of so many years and dreams has no clue who she is, doesn't recognise her as the young girl whose heart he crushed years before when he refused her naïve advances. He wants her, and this could be her only chance to finally get Rook out of her system once and for all.
Now Pippa must decide, and quickly, whether to risk everything she's worked for. Will living her fantasy be worth the inevitable fallout? Amazon Review: "I absolutely love both Rook and Pippa, thrilled to read their story."
Amazon Review: "The emotional aspect had me in tears. I was constantly eager to read the next paragraph and I adored the HEA"
The new Hearts Haven Easter Collection by Tanya Stowe available April 14 from Pelican Book Group!
Posted by: TRS Staff
2014-04-16 -
The new Hearts Haven Easter Collection by Tanya Stowe available April 14 from Pelican Book Group!
Just outside the fictional town of Angel Falls, Texas, Heart's Haven nestles right up against the beautiful Angelina National Forest. According to legend, the pretty little piece of land is a gateway to love. It's also rumored to be a favorite hangout for angels. Lots of folks are convinced that the owner, confirmed bachelor Andrew Hart, not only sees these heavenly creatures, but carries on conversations with them. Just a myth, of course. Pure legend. Or is it?
Lord Heartless by Tessa Berkley
Posted by: TRS Staff
2014-04-16 -
Lord Heartless by Tessa Berkley
An arranged marriage may be the death of Lord Landon Montague, a man who earned his rude moniker, Lord Heartless, through the distaste of the Ton. When he makes plans to collect on a debt from Lord Charles Gilbert by foreclosing on Holly Grove, Gilbert commits suicide. Only then does Lord Montague learn that Lord Gilbert has left a nineteen-year-old daughter, Juliet, at his mercy.
Lady Juliet Gilbert suffered the stigma of suicide as best she could. But losing her home and the servants who raised her and stood by through her father's drinking would be the last straw. Unable to secure a position, Lord Montague's offer of marriage gives her hope. All she must do is produce an heir. But arriving at Broadmoor proves more taxing than she anticipated for her dark Lord already holds an heir conceived out of wedlock.
Will this doom any hope of finding happiness and label him forever Lord Heartless, or will London's society have its last laugh on Shakespeare when Montague wins his fair Juliet?
New Release
Posted by: Charity Parkerson
2014-04-16 -
Unsurpassed by Charity Parkerson Book 1 in the No Rival series Aubree is infatuated with two men, Max and Ryan. The two former Marines have been her close friends ever since she made her first misguided attempt at joining their kickboxing classes. When the pair invites her to join them at a weekend party thrown by Drew, a famous MMA champion, she has no idea what they have in mind. After spending one hot ménage night with the pair, Aubree learns the men's intentions are not all about her. Feeling betrayed, Aubree turns to Drew who is also tugging at her heart. She must choose between the two men who have been the center of her fantasies, and the one man who could make all her dreams come true. Inside Scoop: This sexy tale includes a ménage and male/male encounters that may leave you wishing for an alpha male fighter of your own. A Romantica contemporary erotic romance from Ellora's Cave
Wolf at the Door is out Today!
Posted by: N.J. Walters
2014-04-15 -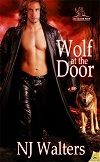 WOLF AT THE DOOR is now available from Samhain Publishing.
Gwendolyn Jones writes about the paranormal but she doesn't believe in it until late one night two werewolves comes knocking at her door.
They kidnap her but she quickly comes to realize they are actually protecting her, especially alpha wolf, Jacque La Forge. The chemistry between them is off the charts, but there is one major problem. She's human and he's a werewolf. If that wasn't enough to deal with, his father and former pack is trying to kill her.
Goddess of the Hunt by Becky Flade
Posted by: TRS Staff
2014-04-15 -
Goddess of the Hunt by Becky Flade
Codename Diana
CIA field agent Paige Aster hides a cunning intelligence and lethal skill behind a mask of golden beauty. It serves her well as she moves from one undercover assignment to the next.
Current Mission
Retrieve a stolen United States military defense program from a terrorist cell in Dublin, Ireland, before they trade it to Islamic extremists in exchange for munitions. Her only back up on this time-sensitive mission is a deeply embedded MI-6 operative.
Her Asset
Eoin Fitzpatrick has sacrificed everyone he holds dear to bring these terrorists to justice. He'll sacrifice Diana, too, if she threatens to compromise his mission or his cover. He has orders to do just that – his agency is only doing hers a favor.
Compromised?
Paige expects danger, but welcomes passion—taking her pleasure where and when it's offered. She's not prepared for the effect Eoin has on her. Or what happens when she surrenders to him—Paige burns for Eoin but will he leave her burned…
"There is a whole lot of story in these pages and I'm left wanting to know what happens next. With a few twists and turns that I didn't see coming, Ms. Flade had me intrigued from the get go. Not for the faint of heart where sex is concerned, Goddess of the Hunt will take you on a thrill ride." ~Reviewed by C. Kloscak
Heartstrings by Sara Walter Ellwood
Posted by: TRS Staff
2014-04-14 -
Heartstrings by Sara Walter Ellwood
He's determined to set things right, no matter the cost.
The last person Abby Crawford wants to face down is country music superstar Seth Kendall. Last time she did, she flat-out lied so he'd go to Nashville without her. She's never understood why their mutual best friend proposed, but she went with it so her baby wouldn't be fatherless. Now she's a divorced mother of a teenager, and secretly Seth's biggest fan.
Seth is home in McAllister, Texas for his father's funeral…and a chance to meet the daughter he's never known. He's willing to face the music of his own making and admit he's known about his little girl all along. For fifteen years he's kept his distance because Abby told him to follow his dreams without her, insisting she didn't love him. But now he won't leave until he knows his daughter and she knows him, even if it means facing the woman who broke his heart for good.
Confessing she's lied about her daughter's paternity all these years won't be easy for Abby, especially with her ex blackmailing her to keep the secret. And Seth doesn't know the hardest truth of all: Every love song he plays on his guitar still plucks her heartstrings.
"Its well written and…a great story that's more than just a gentle romance but has angst and emotions in and lots of twists to keep reader wondering what's going to come out next. All the endings tie in neatly – I hate books where I'm left wondering "yes, but what happened about …." Sara doesn't do that – she lets all the plots merge and become part of the whole with us learning what was behind the deceptions and motives of the major players…" 4 Star review at Jeannie Zelos Book Reviews
"This was indeed a well written, well edited book. In the end, it was worth all the anxiety, the surprises, The pleasure, the sadness, the joy, the disappointment and the anger I felt as I read. This is not just a book for cowboy lovers like me. This is a book for anyone who has loved someone and hoped and prayed for a second chance to be the person they want to be. What else can I tell you but you need to read this book and let it play on your heartstrings. ;) 5/5 Stars (I'd give it more if I could!) and 4/5 Flames!…" 5 Star review at Sniffer Walk Books
"Great Scandal…Great Romance…GREAT "Ahem" ….and a whole lot more to enjoy. HEARTSTRINGS is like your favorite TV Series…you just want more more more! I encourage you all to give it a read…especially my NASHVILLE Fans out there!!" 4 Star review at A Tasty Read Book Reviews
"It is all about trust and repair. It will reveal so many darn secrets you will actually gasp out loud! I pretty much guarantee it! Aside from the family secrets and his Mom, who he never really knew, committing suicide, Seth has more in store. The confessions and scandalous behavior involving Mike, the sheriff will blow you away. I really mean it is a big must read!" 5 Star review at Reading Renee
"I really enjoyed this book and have always been a closet rockstar reader! Seth is complicated. I liked him but at the same time I hated him. Life is never easy and he took the coward's way out for a very long time.
Abby has always felt the pain of not fitting in and she made some touch choices at a young age. You can't fault her for following her heart and doing what she thought was right. I have to say that I had no idea the twists and turns this story was going to take! Mike was not the man that we all thought he was going to be.
Love a good rockstar story and this one is a keeper!" 4 Star review at Romancebookworm's Reviews
"The love story between these two was phenomenal. They had chemistry, sexual attraction, and a troubled past. It has all the basic ingredients for a good read. Then you throw in a blackmailing ex-husband, a superstar ex-girlfriend, and more lies and secrets than you can count and you have yourself a 4 star book! I loved every second of this read. Yes at times I was frustrated and mad. But I love when an author is able to pull that kind of emotion out of me. I highly recommend this book to anyone who is looking for a book that has humor, drama, lies, love, betrayal and really hot sex!…" 4 Star review at The Little Black Book Blog
"Heartstrings is full of emotion, heartbreak, lies, and deception. The characters were well rounded and I fell in love with Seth, Abby, and Emily. I laughed, I cried, I got angry, and this story took me on a wild ride that tugged on my own heartsrings. I couldn't put it down! Heartsrings is highly recommended from this reviewer! Who doesn't love a good second chance story filled with music, laughter, and love?…" 5 Star review at Storm Goddess Book Reviews and More
Emily's Cowboy by Donna Gallagher
Posted by: TRS Staff
2014-04-14 -
Emily's Cowboy by Donna Gallagher League of Love Series Book 5
It's such a cliché — country boy moves to the big city to follow his dreams, leavinghis girl and everything he loves behind – but that's exactly what Gareth Andrews hasdone. Playing rugby league is Gareth's dream and he's signed with one of the best teams in the competition - The Sydney Jets. Of course that has meant a move to the big city and leaving Emily Mackenzie and everything he loves behind. Not that Gareth hasn't begged her to join him in the city he has, on bended knee — but Emily needs to stay in Gunnedah and help her father on the family farm until her brother's stint in the armed forces is over. But Gareth knew it's more than that. Emily is hiding away, embarrassed by the scars that mar her body in a constant reminder of the bushfire that nearly took her life.
Can love give Emily the courage to face strangers again when her father is badly injured and Gareth shows up at the hospital to support her? Or will she let her fear and shame get the better of her and break her one true love's heart for a second time?
Amazon Review: "I fell into this one from the first page, hot steamy & sensual as Gareth & Emily realize how much they mean to each other"
Amazon Review: "I believe Gareth and Emily's story is so special, and one no romantic at heart should miss."
2013 ARRA Awards Finalist for Best Erotic Romance and Sexiest Hero. – NB: *I didn't win but I still think being in the final is worth a shout out*
Just Released For Preorder From Amazon
Posted by: Mary Alford
2014-04-14 - FORGOTTEN PAST - Available for Pre Order through Amazon at a 23% discount!
LOST MEMORIES
Faith McKenzie was the only survivor of a brutal home invasion. Viciously attacked and left for dead, Faith can't remember anything about that night—including the identity of the killer. All she knows is that he's stalking her from every place she flees and has tracked her to a small Maine island. Her neighbor, private investigator and security specialist JT Wyatt, rescues her twice. Now JT is insisting on the whole story—a story that Faith can't remember. Desperate to feel safe, Faith puts her trust in the handsome P.I. Yet a killer is dead set on ensuring that Faith's memory never returns.
Fiance by Fate: An Anyone but You Novel by Jennifer Shirk
Posted by: TRS Staff
2014-04-14 -
Fiance by Fate: An Anyone but You Novel by Jennifer Shirk
On sale for 99 cents!
Their fake relationship is a twist of fate. Sabrina Cassidy believes in fate. So when her fiancé breaks off their engagement, she's convinced they'll get back together eventually. But fate was not on her side when it brought Jack Brenner into her life—and work. Frustrating, gorgeous, and cocky, Jack has an offer that Sabrina can't refuse. Not if it means getting the life she's always imagined.
Despite being one of the town's most eligible bachelors, Jack has a reputation that's working against him. He has to convince his father—and his company's board—that he's ready to settle down if he wants a promotion. But convincing Sabrina to be his fake girlfriend turns out to be the easiest part. What he didn't count on was their intense attraction and how easily their lie would escalate.
Sabrina's still hung up on her ex, and Jack will never settle down. But fate has other ideas…
A Need to Protect by Diane Benefiel
Posted by: TRS Staff
2014-04-14 -
A Need to Protect by Diane Benefiel
Ready to hit the reset button on life, Emma Kincaid embraces her unexpected inheritance and heads to Hangman's Loss, the only place she's ever experienced happiness. But when her garage goes up in flames and someone breaks in, it soon becomes clear that Emma is the target of something far worse than malicious pranks. To survive, she'll have to trust the local chief of police—an impossible task because Emma's past taught her not to trust men in uniform.
Everyone in Hangman's Loss trusts Bradley Gallagher to protect them; he's the Chief of Police. Everyone that is except prickly newcomer Emmaline Kincaid. But when the attacks on her continue, Brad will do everything in his power to keep her safe, including putting his life on the line.
The race to find the predator forces Brad and Emma to work together. Sparks fly as they butt heads, but a gun aimed at the heart has a way of shaking up priorities. Can they trust one another enough to have a future?
Soldier in Her Lap by Haley Whitehall
Posted by: TRS Staff
2014-04-13 -
Soldier in Her Lap by Haley Whitehall
Trapped by her alcoholic, abusive father, Sophia Carpenter longs to escape her life of drudgery on her father's dirt farm in Clark Springs, Georgia. Making matters worse, her father's scared off every man who tried to call on her. She longs for freedom, but with the Civil War raging, even fewer men are available to fulfill her dreams—unless a soldier landed in her lap.
Conscripted into a war he never wanted to fight, Lucas Grady is tired of battle and refuses to lay his life down for a lost cause. After a musket ball tears through his leg, he deserts from the ambulance wagon rather than risk a field surgeon's saw. He barely makes it to Sophia's farm before collapsing.
The wounded soldier's arrival seems like a dream come true, but first she must save him from his injuries—and her father. As forbidden attraction blooms between them, they will have to struggle to survive. Can their love overcome so many obstacles or will they become another casualty of the War Between the States?
The Choice by Brenda Jernigan
Posted by: TRS Staff
2014-04-13 -
The Choice by Brenda Jernigan
On sale for $.99!
TOP 100 - Amazon Breakthrough Novel Award
Brenna Fox knows she will always love Taylor Rothschild, but she doesn't want to be a black stain on Taylor's promising career after a scandal that is none of her making. So she makes a devil's bargain with Taylor's mother, Vivian Rothschild, and leaves the man she loves, promising never to return to River Run. Brenna prays he will forgive her and will come after her.
Vivian Rothschild will do anything in her power to keep her son from marrying Brenna, who she believes is a gold digger. Vivian offers to set up Brenna in a new town and pay for her younger sister's medical expenses as long as Brenna tells Taylor nothing of the agreement. Vivian reasons that what Taylor doesn't know won't hurt him. Fate has a way of interfering and sends Taylor Rothschild barreling back into Brenna's life when the his car breaks down in Sleepy Hollow. But he isn't alone. He has a new fiancée.
Taylor Rothschild swore he'd hate Brenna until the day he dies after she left without a word. Now, as he comes face to face with his past, he learns that there is a thin line between love and hate. ***** FIVE STARS! Real heroes are those who put the welfare of others before themselves, even if it means sacrificing their happiness. This is exactly the type of person Brenna is. Author Brenda Jernigan has a writing style that made it easy for me to understand and care for the characters. The story hooked me on the very first page and did not let go. And the surprising twist toward the end made my mouth fall open. I never saw it coming. I fell so far into the story that the world seemed to fade away and I lost track of time. But it was well worth losing sleep over. I cannot recommend this story highly enough. *****Reviewed by Detra Fitch of Huntress Reviews.
Release Party @ TRS 4/12/14!
Posted by: TRS Staff
2014-04-12 -




Join us for our upcoming release parties at TRS -- bigger and better than ever before! Come for fun, fellowship and prizes and be able to chat with your favorite authors at our party site.

Alice Brown
Christine Murphy
Jessica E. Subject
JoAnne Myers
Kristina Knight
Megan Slayer
Paige Tyler
Robin Badillo/Tyler Robbins
Sara Walter Ellwood
Sharita Lira
Sultry Summers
Susan Horsnell
Ute Carbone
Viki Lyn

Peyton's Ride by Jennifer James
Posted by: TRS Staff
2014-04-11 -
Peyton's Ride by Jennifer James
She's about to trade her treasured motorcycle in on a much wilder ride—Ian Coghlan.
Divorcee Peyton Reynolds is ready to escape the the judgement of a small town, bad memories of her failed marriage, and the grief of her mother's death. A month long, cross-country ride should do just the trick. One last check-up on her new cruiser has her tripping over her hormones while alone in the garage with the town's sexy bad boy, Ian Coghlan.
Tattooed, pierced, and able to shape-shift, Ian will give her the ride of her life.
Ian Coghlan knows he's nothing but disaster for a woman like Peyton. His place in the Wild Hunt and killer instincts have held him back from acting on a five-year attraction. When the curvy brunette responds to one tiny grin with a spark of interest, sockets fly out of the toolboxes and Peyton is knocked to the floor.
That month of solitude she wanted just disappeared, but the consolation prize is looking pretty…damn…hot.
With the magic of the Hunt in the air, Pixie pranks abound, and his old biker gang roars into the parking lot, dousing the heat in the garage with the cold dredges of mayhem. Peyton's life is on the line with his bad brothers' return to his world, and Ian has to decide if he can let her go or if he's willing risk her eternal hatred by changing her life forever.
"This was a great paranormal romance and I loved every minute, devouring it in an hour. For a short, it's surprisingly detailed and had the feel of a full length novel. The characters and storyline were both well developed and I never felt like it was missing anything or needed more. Incredibly descriptive coupled with the writing style allowed the words to just flow, making it easy to imagine everything as the story unfolded. The main characters Peyton and Ian are perfect together, and the chemistry they have just jumps off the page. I really can't wait to read more about The Hunt." Claire Taylor, Amazon.com
"Jennifer James had me laughing through this entire piece with the characters' internal monologues as much as with their actual dialogue. Peyton Reynolds starts off as this female protagonist that I wanted to like because I could relate to her -she's got family obligations which she feels she's neglected or not done her best with, she's come to accept her figure rather than being a person who thinks their body is perfect, she's had bad luck with men/relationships in the past- and then Peyton becomes this chick I just want to buy a drink!"
She's hilarious!
All the through the piece she's fixated on getting away from her real life worries for a while, living it up, and trying not to notice exactly how hot the mechanic at her bike dealership is…oh but that doesn't work out so well for her.
The moment that Ian's POV is introduced really shifted the story for me into that great space where paranormal romance blows contemporary out of the water since it's hard to compete with the magic of that genre. I loved all the details about The Wild Hunt. I adored that her Fae were darker in tone than a lot of people choose to go. I especially enjoyed how everything came together at the end to simply fit from pieces into a whole work like a puzzle that's finally solved.
That's how the ending felt to me: as if the puzzle of Peyton's life had been solved.
It was sexy, sassy, and above all else, supernaturally fun times. I'm so glad that I got the opportunity to read this and I can't wait to see where The Hunt rides to next!" Shandra Torbett, Amazon.com (For "This Redhead LOVES Books" blog)
My Highland Love by Tarah Scott
Posted by: TRS Staff
2014-04-11 -
My Highland Love by Tarah Scott
How does a woman tell her betrothed she murdered her first husband?
Elise Kingston is a wanted woman. Nothing, not even Highlander Marcus MacGregor, will stop her from returning home to ensure that the man responsible for her daughter's death hangs.
Until she must choose between his life and her revenge.
I'm panting already thinking about the honorable Marcus MacGregor in his sexy kilt all muscular and rippling with a day's hard work sweat yielding a sword. Sigh! Queentutt
The chemistry between these two characters will leave you breathless! This is one book I will defiantly read over and over! Starry Night Reviews
I think this is one of the best highlander romance I've read in a while. Tarah Scott has a way with words that draws you in and keeps you in the world that she creates. And what a world it is, jam-packed with adventure, murder, revenge, romance, passion, and love. Can't wait to read the next one. Eniko's Reviews
Wonderful story if you love book set in the beautiful highlands, sexy men in kilts then this is the book for you set in early 1820's. This book is a love story, adventure, suspense, and murder mystery. I also enjoyed alpha warrior highlander Marcus MacGregor, Marquess if Ashlund a very sexy warrior, son of The Chief of Clan MacGregor. This book has many surprises in store for the reader as well as hardships so have a hankie nearby, yet there is joy and laughter as well as a deep passionate love. Jersey Girl
Second Skin by Thea Landen
Posted by: TRS Staff
2014-04-10 -
Second Skin by Thea Landen
Anna's career as a high-level CIA operative is put on involuntary hiatus. When a trusted colleague passes along the information for the 1Night Stand service, Anna decides to take the plunge against her better judgment and seek some intimate company. But her CIA instincts can't be ignored, and when she contacts Madame Eve, she uses an alias.
Brendan owns a lucrative manufacturing company, but he's yet to achieve the goal of finding a woman with whom he can share his successes and joys. But beneath his polished, capable exterior hides the painfully shy teenager he's never been able to escape. When his own efforts in the dating scene fall short, he turns to 1Night Stand. It would be so easy to fall in love with Brendan, and Anna's protective mask slides away, piece-by-piece, revealing more of herself than she should dare. Before she can slip away with the sunrise, Brendan shows their encounter in a new light. Will Anna take a chance on their future, or will she choose to return to her undercover, but lonely life?
JUST RELEASED FOR PREORDER
Posted by: Celeste Prater
2014-04-10 -

FUELED BY LUST: CATO – AVAILABLE FOR PREORDER 15% Preorder Discount
[Siren Classic: Erotic Sci-Fi Romance, light bondage, spanking, HEA]
While monitoring the airwaves for potential mates for the earthbound Insedi, Cato Telarius becomes mesmerized with a sensual, feminine voice captured during a pay phone conversation with a hotline operator. Cato's obsession with finding the woman attached to the voice leads him to a discovery that will shock the Insedivertus race and a love that will test the boundaries of his sanity.
Luna Jasper has been working hard to get out of an unfulfilling relationship, and just as she sees freedom within reach, one small mistake spirals her into a fight for her life, a huge push into the arms of a man she never believed could exist, and a surrealistic encounter with an alien world beyond her wildest imagination.
Book 3 in the Fueled By Lust Series once again delivers hot, drool-worthy Insedi, scorching sex scenes that will make you reach for a cool drink, intrigue, and heart wrenching passion.
EXCERPT AND PREORDER LINK:
http://www.bookstrand.com/fueled-by-lust-cato
AUTHOR WEBSITE: