Latest happenings at The Romance Studio.
Rustler's Heart by Amanda McIntyre
Posted by: Decadent Publishing
2014-03-08 - https://www.allromanceebooks.com/dbimages/1434033.jpg
The Kinnison boys are back!


Orphaned by tragedy, Rein Mackenzie was taken in by his benevolent uncle at the Kinnison ranch alongside two others abandoned at a young age. Now, he and his 'brothers' carry on Jed Kinnison's dream of making the ranch a haven for those who need hope. But when a woman arrives claiming to be related to the Kinnisons, she brings danger—not only to his heart, but to those he calls family.

Liberty's presence is a surprise to the family she's never met, and while she yearns to belong, she knows her presence is a reminder of their painful past. Fearless, she dives in, losing her heart to the ranch, to the community, and to an unexpected summer fling.

But when dangers from her past catch up to her, they may cost her everyone and everything she has come to love.


Buy it today!

Release Party @ TRS 3/8/14!
Posted by: TRS Staff
2014-03-08 -




Join us for our upcoming release parties at TRS -- bigger and better than ever before! Come for fun, fellowship and prizes and be able to chat with your favorite authors at our party site.

Alice Brown
Anita Philmar
Deena Remiel
Eva Lefoy
Jennifer James
Karenna Colcroft
Kristina Knight
Lady V
Megan Slayer
Natalie J. Damschroder
Paige Tyler
Robin Badillo/Tyler Robbins
Roz Lee
Sam Cheever
Sharita Lira
Sultry Summers
Susan Horsnell
Taylor Brooks
Tina Donahue
My Highland Lord by Tarah Scott
Posted by: TRS Staff
2014-03-08 -
My Highland Lord by Tarah Scott
British spy Phoebe Wallington searches for answers to exonerate her father of treason. Her quest veers off course when she's kidnapped by suspected traitor Kiernan MacGregor, the Marquess of Ashlund. But someone wants him dead…and Phoebe stands in the killer's way. Only one thing can save them. Marriage.
Welcome to the Majesty that can only be Tarah Scott. Be prepared to be swept up in the intrigue and wonder of her newest addition to the Highland Lords Series, My Highland Lord. Close Encounters with the Night Kind
My Highland Lord is a hilarious and intriguing adventure in which all kinds of mysteries and romance surround our heroine… supremely interesting and captivating. The Romance Reviews Top Pick
Fast paced and passion filled. If you enjoy conspiracies, romance, witty banter, danger and passion, then pick up this title. Sizzling hot with its plot and characters. Oh, did I mention sexy Highlanders. My Book Addiction and More My Highland Lord definitely embodied everything there is to love about historical romance novels. This is a must read for any lover of historical romance or historical fiction in general. Book Cracker Caroline
Her Secret by Tara Fox Hall
Posted by: TRS Staff
2014-03-08 -
Her Secret by Tara Fox Hall
In a desperate effort to halt her transformation to vampire, and stop her longing for the sultry Devlin, Sarelle willingly takes a drug to kill her desire, even as Danial prepares for the introduction of their son Theoron at a Vampire Gathering on New Year's Eve. Faced with Theo's betrayal at the eleventh hour, Sarelle must either trust in Danial to save her, or join forces with Devlin, revealing her secret desire for him.
"I have read every novel in this series since Promise Me — it has become a soap opera type addiction that you must read to find out what happens next." — Douglas Meeks, Top 500 Amazon Reviewer
Taming the Cowboy by Emma Jay
Posted by: TRS Staff
2014-03-07 -
Taming the Cowboy by Emma Jay
Three rodeo cowboys who never thought they'd be reined in Three women who never knew they had the power to tame them At the Cowboy's Mercy A woman down on her luck turns to an old friend for help. But can he forgive her for the secret she kept? The Cowboy's Saving Grace A cowboy looking for a good time returns to Las Vegas to the woman he left behind. Can she let him back in her life…or her heart? Faith in the Cowboy After a painful divorce, she's not looking for anything from a man. But the sexy rodeo cowboy won't let a little discouragement deter him…not until he breaches her defenses.
Agent T3: d'Artagnan by Joni Hahn
Posted by: TRS Staff
2014-03-07 -
Agent T3: d-Artagnan Naylor
Credentials:
• Rebel son of Former Navy SEAL
• Trained under his father
Enhancements:
• Time Travel
d'Artagnan (Dar) Naylor: trained by the best, disciplined by the toughest, and raised by the vilest - his father. He bought into Robert Naylor's life of crime, until he learned the reasons behind it.
Now, he possesses enhancements installed by The D.I.R.E. Agency - an organization he once called enemy. He has to stop the traitors from the past before they destroy the future. And, despite what they say, his decision has nothing whatsoever to do with retro beauty, Jocelyn Chalmers.
Jocelyn wakes up in the future without a memory. All she's certain of is the fear in her gut and her blinding attraction to gorgeous, protective D.I.R.E. agent, d'Artagnan Naylor.
When close quarters prove too much for their passionate hunger, Dar knows his future is destined for hard decisions. Once Jocelyn's memory returns, she begs Dar to return to the year nineteen forty-four and save the world.
Yet, to change the past, changed the future. How can they be certain of the consequences of his actions? How can he return her to the past where she belongs after all they've shared?
Turbulent times come to a head when the past sends its own version of destruction to the future in the midst of long-awaited retribution.
Can Dar escape his past to save the future? Or, does fate have its own reckoning in mind?
"Packed with suspense, alpha heroes, and strong sassy, intelligent, and independent heroines, these romances deliver on every front." Emsy Van Wyck
"This is a series that you definitely should check out" AReaderLivesAThousandLives
"full of edge of the seat action, romance and sexiness" Maria
A Fistful of Fate by Debora Dennis
Posted by: TRS Staff
2014-03-06 -
A Fistful of Fate by Debora Dennis
Would you die for love…twice?
William Montgomery, a blacksmith wrongly sentenced to death in 1806 for the murder of the woman he loved, cannot rest. As a ghost, he's been bound to Clayton Creek for over two hundred years…waiting for the soul of his true love to find him and finally set him free.
Rebecca Prescott, tormented by a strange recurring nightmare of her ancestor's murder, is drawn to a two-week colonial reenactment at the scene of the ancient crime. She expects to put her nightmares to rest, instead she finds one charming blacksmith and past life memories of an undying love.
William needs to break the witch's curse by winning Rebecca's love in the present and earning her forgiveness for the past before his fistful of magic pearls disappear and he's condemned to Clayton Creek forever.
Can Rebecca's soul finally reunite with her destined love or will she repeat the past and die once again for the man she loves?
A FISTFUL OF FATE is a tale of love, deceit and second chances.
Debora Dennis weaves a dreamy hero with touches of humor, and a unique plot into a very enjoyable romance!
A dreamy hero, touches of humor=a very enjoyable romance.
A blacksmith wrongly sentenced to death in 1806 waits for the soul of his true love to find him and finally set him free.
Would you die for love…twice? A FISTFUL OF FATE available now!
Some Like it Spicy by Robbie Terman
Posted by: TRS Staff
2014-03-06 -
Some Like it Spicy by Robbie Terman
Ashton Grey's restaurant, Sweet Home, is in trouble. Months of empty tables have left her and her partners near bankruptcy, and her father's prediction of her failure as a chef seems imminent. But a chance encounter could provide Ashton with the publicity she needs to save her restaurant—if the fiery chef is willing to compete on a reality cooking show. But in order to win, she needs to stay focused. No problem…until she meets the head judge.
Celebrity chef Ty Cates is ready to get away from the camera and back to the kitchen where he belongs. Performing as head judge on a reality show is just one more commitment he'd like to get out of, especially after he meets Ashton. Head judges dating contestants is about as taboo as putting ketchup on filet mignon, but from the moment they meet, there's a simmering heat between them that neither can ignore.
As the competition heats up, they rely on sneaking around, stealing amazing night after amazing night together when the cameras aren't rolling. When both realize what's starting to feel like love could easily be a recipe for disaster, Ashton and Ty need to make a choice—get out of the kitchen or turn up the heat.
"Sizzling chemistry with equal parts heat and heart. SOME LIKE IT SPICY is a delicious read." ~ Marina Adair, national bestselling author of Summer in Napa.
"A delectable treat! Robbie Terman has a recipe for romance that's good to the last bite." ~ Jane Graves, New York Times bestselling author
"I can't remember having so much fun with a book—the food imagery and sensuality were both delicious and fresh. A delightful read in every way." ~ Jennifer Greene, USA Today bestselling author
Some Like it Spicy is filled with fun, food, and fiery passion. Truly a romance to relish! ~ Christie Ridgway, USA Today bestselling author
Agent E2: Aidan (Sci Fi Romance) (The D.I.R.E. Agency)
Posted by: TRS Staff
2014-03-06 -
Agent E2: Aidan (Sci Fi Romance) (The D.I.R.E. Agency)
Former Navy SEAL, Aidan Monroe, embraces risk. Show him a hint of danger – or a beautiful woman - and he's all over it. The only commitments in his life: his new D.I.R.E. enhancements and finding his father's killers.
Cassandra Naylor, daughter of D.I.R.E.'s greatest foe, has one goal in mind: save her father and twin brother. However, she didn't bank on D.I.R.E.'s superpowers, or Aidan Monroe's irresistible appeal.
Cassandra can't ignore the scorching electricity between her and Aidan. When their passion is unleashed after a night of dangerous, life-changing events, Cassandra knows there's no going back. Yet, giving in to her feelings guarantees her father's vengeful wrath.
While they fight their attraction for one another, traitors from the past, and death-defying circumstances force shocking revelations to the surface.
Can their love overcome history and betrayal? Or, will the past rob them of any future they have together?
"If you like science, hot men and hot sex, you will love Joni Hahn's DIRE Series" TheBookHarlot
"Joni Hahn delivers another thrilling, edge-of-your-seat read" Emsy Van Wyck
"Be prepared to stay up all night to finish it!" BornToRead
The Billionaire Playboy by Christina Tetreault
Posted by: TRS Staff
2014-03-05 -
The Billionaire Playboy by Christina Tetreault
On sale for $.99 for a limited time.
She's spent her life avoiding love Captain Charlotte "Charlie" O'Brien, a doctor in the United States Navy, returns to her home in North Salem, Massachusetts to visit her family and make an important decision about her future. Mother Nature has other plans when a hurricane strikes, flooding the town and throwing Jake Sherbrooke in Charlie's path. Initially she believes Jake is nothing more than a rich playboy, but quickly, she learns that he is so much more. The media calls him Prince Charming Jake Sherbrooke has never been one to follow the path laid out by his parents. That is why he started the Falmouth Foundation, a non-profit disaster relief organization rather than enter politics. When he learns of the destruction in North Salem, he immediately travels there to offer aid and meets Charlie O'Brien. Charlie is unlike any woman he has ever meet and he can not help but be drawn to her.
Soon neither can ignore the incredible chemistry between them. But will his reputation as a billionaire playboy damage their budding romance?
Fire Within by Ally Shields
Posted by: TRS Staff
2014-03-05 -
Fire Within by Ally Shields
When a serial killer begins targeting vampires, Otherworld cop Ari Calin must work with Andreas, the charismatic vampire she's avoided for months. Not only will she risk her life in hunting the hidden evil that's stalking the city, but now she has to worry about protecting her heart.
"This book is more than just a story about various paranormal beings, but is a true mystery. I had no idea who was responsible until the very end; that is good story telling." 5 stars Paranormal Romance Guild
"The chemistry between all the characters is believable and endearing." Amazon reviewer 5* "Arianna Calin is a witch…one part detective, one part battle-hardened crime fighter, and all parts tough as nails." Amazon reviewer 5*
"Awesome supernatural book!!!!!!!w Would recommend to anyone who likes the genre. Keeps you interested with continuous peaks in the plot. Can't wait for the next book." Amazon reviewer 5* "No doubt about it! A wonderfully written story and a definite MUST READ!!! 5 Stars." Amazon reviewer
"I love a strong female character and Ari kicks butt. And throw in some sexy men/vampires and you have a great combination." Amazon reviewer 5*
Buy it today!
Amazon
Barnes & Noble
All Romance Ebooks
Kobo
Agent I1: Tristan by by Joni Hahn
Posted by: TRS Staff
2014-03-05 -
Agent I1: Tristan by by Joni Hahn
Agent I1: Tristan Jacobs
Credentials:
• Second generation Former Navy SEAL
• DIRE's top agent
Enhancements:
• Teleportation
• Invisibility
Raised in the art of warfare, Former Navy SEAL, Tristan Jacobs, has always been a force to reckon with. Now that D.I.R.E. has successfully implemented his scientific enhancements, he's a walking weapon. Unstoppable, as long as he stays focused. No relationships.
When ex-BUD/S teammate, Aidan Monroe, interrupts his long-awaited sabbatical to call in a favor, Tristan reluctantly fills the simple request: take out his sister's fiancé.
One problem: Rachel Monroe - smokin' hot, kind-hearted, and in desperate need of a protector. After the best sex of his life, Tristan's afraid unstoppable is just a memory. Knowing Aidan's temper, Tristan could be, too.
Rachel Monroe had a plan to help her mother. Her brother ruined everything when his gorgeous, super-agent friend teleported her to some forsaken island - and his bed. She's drawn to him despite the fact he's a professional agent, much like the people suspected of killing her father.
Now, his enemies have come to her small town, looking for vengeance. Have they found more than they bargained for? Or, does the past have its own retribution in mind?
"Joni Hahn hits it out of the ballpark" Emsy Van Wyck
"fast-paced, action-packed adventure with a whole lot of romance" Grace @ Bookkins
"Great sci-fi, strong characters and sexy as heck" hrhsophia
A Winter Knight's Vigil by Shauna Aura Knight
Posted by: TRS Staff
2014-03-04 -
A Winter Knight's Vigil by Shauna Aura Knight
Sexy, kilt-wearing Tristan has captured Amber's attention on many occasions. But as members of the Kingsword coven, which has strict rules about intimate relationships inside the circle, dating him is out of the question. When the coven heads to a secluded woodland cabin to celebrate the Winter Solstice, Amber finds herself closer than ever to Tristan. As the Longest Night approaches and their group's ritual workings intensify, the pair realizes that they can no longer hide from their feelings.
Just as King Arthur held vigil before being knighted, Tristan and Amber face their shadows—and the realization that one or both of them might have to leave the coven. Or can they be together without breaking their honor?
The Reluctant Debutante by Becky Lower
Posted by: TRS Staff
2014-03-04 -
The Reluctant Debutante by Becky Lower
Only 99 cents. Grab a copy now.
In 1855 New York, Ginger Fitzpatrick has absolutely no interest in taking part in the newest rage in America—the Cotillion Ball. Instead, Ginger would rather be rallying for women's rights; at least until she meets her brother's best friend from St. Louis, a dark mysterious man named Joseph Lafontaine, who ignites her passion and makes her question if love and marriage is such a ridiculous notion after all. What she and the rest of New York's high society don't realize is that Joseph is half Ojibwa Indian, and therefore, totally unsuitable for marriage to a fine, cultured young lady. In this Edith Wharton meets Julia Quinn tale, a young woman rebels against high society and opts for a life in which she creates her own set of rules.
Reviews:
This is a must-read for any history buff. From the opening chapter, I knew I held something special in my hands.
Becky Lower's The Reluctant Debutante is a well-researched, richly drawn portrait of 1855 America that intertwines a number of historical events and persons with a very romantic and sensual tale.
Downbeat by Mary Hughes
Posted by: TRS Staff
2014-03-04 -
Downbeat by Mary Hughes — Available now!
(Biting Love, Book 7)
Striking the right note could shatter more than their hearts.
After an attack that slaughtered his family, vampire Dragan Zajicek walled off his heart and went on a sixteen-hundred-year rampage with the bad boys of history.
Now a rock star of the concert podium and master freelance spy, he's taken the baton for a small orchestra near Chicago to investigate rumors of a monstrous, undefeatable vampire dubbed the Soul Stealer.
But it's the lovely, unassuming Raquel "Rocky" Hrbek who mesmerizes him from the first touch of her luscious lips on her flute.
Rocky, a shy shadow scarred by middle school cruelty, is mystified as to why core-meltingly gorgeous Dragan would notice a mouse like her. As his stolen kisses draw her dangerously close to the edge of her carefully constructed comfort zone, he exposes her secret—she's investigating the monster herself.
As their quest draws them closer together, the monster zeroes in on the woman Dragan's rebellious heart tells him is his mate. Now they must find a way to destroy the indestructible before Rocky is utterly consumed. And Chicago is bathed in the blood of innocents.
Warning: Contains a master of seduction and symphonies, an awkward and innocent flutist, small-town humor, heart-stopping action, and an exodus to Iowa. Oh, and the cheese balls are ba-a-ack—and deadlier than ever.
***RELEASE DAY is March 4.
Changeling Press @ TRS 3/4/14!
Posted by: TRS Staff
2014-03-04 -




Join the fabulous authors of Changeling Press at our party site 3/4/14! It will be a party not to be missed!

Ana Raine
Anne Kane
BJ McCall


One lucky winner will win 4 ebooks from Changeling Press!

www.trsparties.com
Serenity by D. Renee Bagby
Posted by: TRS Staff
2014-03-03 -
Serenity by D. Renee Bagby
Their uneasy alliance could lead to love — if the demon will allow it.
Melchior, King of the Bhresyas, is quickly growing tired of the war between his kind and the humans who view them as demons. He proposes a peace treaty with the most powerful human kingdom. His only stipulation? Once she comes of age, the human queen's daughter must be his bride.
Serenity has spent her entire life preparing for her role at Melchior's side. Other women might be frightened, but she embraces her destiny, knowing in her heart that she and Melchior have been twined together by fate.
While he wants cooperation between their two peoples, his union with Serenity cannot and should not lead to love. The more she tries to bring them together, the harder he pushes her away — until she lands in the arms of those who would do her harm.
Love is the answer. But before Melchior admits to his, it may be too late.
(available in ebook and print):
Samhain Publishing
All Romance Ebooks
Amazon
Nook
The Banker and the Call Girl by Emily Sinclare
Posted by: TRS Staff
2014-03-03 -
The Banker and the Call Girl by Emily Sinclare
Once again Escorts Undercover, a little-known, highly secret division of the FBI, puts a gorgeous female agent in jeopardy.
Patti Penn, just recovered from being shot on a previous assignment, goes undercover as a high-class escort to unlock the secrets of a powerful man suspected of internationally laundering mob money. She's physically fit and ready for work, but is she emotionally ready?
Secret Service Agent Russ O'Reilly is instantly captured by this stunning beauty. And his body's reaction proves it. Can they ignore their combustible attraction to each other long enough to catch a money launderer? And can Russ stand to see Patti use her body to lure their suspect when all he wants to do is make her his own.


Danger, sex, passion. That's The Banker and the Call Girl.
TALL, DARK & APOCALYPTIC by Sam Cheever
Posted by: TRS Staff
2014-03-03 -
TALL, DARK & APOCALYPTIC by Sam Cheever
A grand passion in an apocalyptic world.
A love beyond reason and without boundaries.
He's a warrior, a bounty hunter in a world turned upside down. She's a target, a creature of dark magic. His job is simple. Kill the target. Her goal is more complex. She must stay alive until she finds and destroys the source of death magic staining the twenty worlds. But the passion burning within them may be their undoing. It's going to take an apocalyptic will to overcome the distraction their bodies are creating…and not lose themselves in the process.
5 stars! Deb Thomas - Beta Reader/Reviewer
"Sam Cheever has created a world full of death, hope and love. This story pulls you and has you rooting for the good guys and some of the bad guys too. I really enjoyed this story. I would love to read more about the twenty worlds."
5 stars! - Linda Bass - Goodreads Reviewer
The year is 2090 and war had destroyed the land.
Yiera Ruth days had been lonely except for the ancient nome kindress when she was just a child. Audie Kord, a deadly Soceri warrior, took his orders as gospel. He and his fellow warriors were order by headquarters and search out and kill the evil scourge that the black with had credited. But there was one woman… (who) had managed to elude him time after time! Dare he trust her? and why was his head saying not to trust her but his heart said yes????????
5 stars - Venus Cahill Reviews
This story jumps right into the action and never lets up! Yeira is a kick-butt heroine but she's still easy to relate to, which was surprising considering her amazingly unique situation. Kord is the ultimate Alpha and he took my breath away. He's masculine and imposing and while he is steadfast and dependable he is also a good man at heart. The setting becomes almost a third lead character and I loved it. I cannot wait to read more stories about the fabulous world this author has created. I will freely admit to being a huge fan of this author, I love her Honeybun series but I was a little apprehensive of reading an apocalyptic story as I rarely enjoy them but this one was a definite exception not only did I thoroughly enjoy it I want more!
Complete Surrender by Ju Ephraime
Posted by: TRS Staff
2014-03-02 -
Complete Surrender by Ju Ephraime
Raymond LaCasse had just completed his studies in Paris and was on his way home, to the French Caribbean island of Martinique, little did he know sharing a taxi with a beautiful stranger would change his life in ways he could have never imagined. His couldn't get the beautiful woman out of his mind, long after she had collected her belongs and left the taxi they'd shared on the way to the airport. Who was this gorgeous woman? He wish the drive had been longer, so he could have spent a longer time in her company. He'd get his wish, but not in the way he'd imagined.
Gabrielle Descotte, a model by profession, had agreed to assist her brother in carrying out an illegal feat. She loved her brother dearly and would do anything for him, but when she met his intended target, Raymond LaCasse, she swiftly had a change of heart. She now had to choose, her brother or the man who occupies her every waking moment, to the exclusion of all else.
Divided by loyalties and bound by a desire that drives them into each other's arms, Raymond and Gabrielle find themselves in a convoluted web of deceit and danger that almost destroy their new-found love and tear them apart…
Download My Love
Posted by: Eva Lefoy
2014-03-02 -
Security Core agent Everett is assigned a special case—protect the daughter of Simon Gold, the father of modern mechanoid life. To ensure her survival, Everett's given a special EMO upgrade, and can experience love for the first time. He's soon head over heels and the super-charged sexual attraction threatens to fry his circuits while he fights to stay one step ahead of the bad guys.
Samantha Gold detests her father's work. She's an off-the-grid back-to-lander who wants to keep life simple with her cows and her crops. When her father dies and inadvertently transfers a secret code to a hidden receptor in her brain, it's only android Agent Everett who can protect her. Can she ever forgive her father for creating Everett—a man so perfect for her that he even loves her cows?
Kristar by D. Renee Bagby
Posted by: TRS Staff
2014-03-02 -
Kristar by D. Renee Bagby
Destined lovers don't always have it easier. Chigaru is captain of the guard and he loves his queen more than he should. He is loyal to the royal family but knows his desire for one he cannot have is an issue. He needs a woman who will distract him before he commits treason.
Kitty is a classically trained dancer turned stripper. Her life is perfect except for the shadows of her past catching up with her. She needs to get away before she becomes a prisoner of her destiny.
Five years ago, Silny enacted a plan to regain her lost memories. The last piece of the puzzle is Kitty, and Chigaru is the only one who can cross dimensions to retrieve her. Kitty is not right for his world. Chigaru is not what she expected. They are soul mates, but knowing that might not be enough to overlook their pasts for a future together.
Condemned and Chosen by Destiny Blaine & Marc Alice
Posted by: TRS Staff
2014-03-02 -
Condemned and Chosen by Destiny Blaine & Marc Alice
Romy Nichole realizes she's destined for greatness when she discovers Chuck Hayes, the MC's President, is her mate. While she's anxious to take her position in his life and in his bed, Romy understands she must push aside a few obstacles first.
Enter Molly McPherson. Move past those pretty blue eyes and sexy body, and Molly is nothing more than a vixen with an agenda. She has her sights set on Romy and doesn't appear to have much interest in anything else.
Fully prepared to play Molly's game, Romy takes the initiative to lead a vixen astray, but when Chuck and Romy are ready for a little one-on-one time, Molly makes a dangerous move. And her betrayal will come at a mighty high price.
Condemned and Chosen is book one in Sins of Wolves: The Safe Mountain Series. Follow the Sins of Wolves blog at http://sinsofwolves.blogspot.com/
Only You For Me by Solange St. Brice
Posted by: TRS Staff
2014-03-01 -
Only You For Me by Solange St. Brice
A man with a secret… Clive Stevenson was harboring a secret. A secret that could destroy his relationship with Morgan, the woman he professed to be in love with. His desire for her was insatiable—he wanted her more than he had ever wanted any woman before, but is desire enough to build a lasting relationship on—is it enough to offer her marriage? A woman with one desire… Morgan Epps was obsessed with Clive Stevenson. She wanted no other but him. She had spent years waiting patiently until he was available to offer her marriage. Finally, she thought the time had come, but it appears as if Clive is having cold feet— is he, or is it her imagination? The final reckoning… Morgan will have to risk everything and confront Clive. Will she be able to accept and forgive him when she discovers the truth? Will he even want her forgiveness? Or should she accept him for what he is and be content with what he is willing to offer?
For His Eyes Only by Liz Fielding
Posted by: TRS Staff
2014-03-01 -
For His Eyes Only by Liz Fielding
An appeal to sculptor, Darius Gordon to rescue her career doesn't go the way Natasha plans. He wants her naked!
"It's your body that I want to draw, not your clothes."
Well, that's what she was afraid of! Hardworking estate agent Natasha Gordon finds her reputation in tatters when an ad she created gets bungled. She'll do anything to restore her good name—even beg seriously sexy artist Darius Hadley to give her another chance to sell his ancestral home. Only, he drives a hard bargain: Natasha must pose naked, for his eyes only…!
He's asking Natasha to take him on trust. But she's learned the hard way not to trust men—particularly those she's working with…and let alone men she's taking her clothes off for!
Darius's next outrageous statement? "I will, too—if it will make it easier for you."
March Newsletter
Posted by: N.J. Walters
2014-03-01 -

The March issue of Awakening Desires—the Newsletter of Romance Author N.J. Walters—is now available.

Be sure to check out all the latest news, contests and an excerpt.

As always, some lucky newsletter subscriber wins a prize. All you have to do to be eligible to win is go to Awakening Desires Newsletter and join. While you're there, you can check out back issues of the newsletter.
Craig's Heart by N.J. Walters
Posted by: N.J. Walters
2014-03-01 -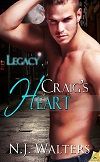 Craig's Heart is now available from Samhain Publishing.
A vampire's heart is not meant to beat this fast.
Craig Lawton's life is full. Filled with normal things like work and not-so-normal things like two half-werewolf siblings and a vampire best friend. Then it all changes.
Evie Pelowski is alone in a filthy alley, a monster like the one that attacked her, unable to control the bloodlust surging through her veins. Now she's done the unforgivable—turned her Good Samaritan into a monster just like her.
Ridgeville #8-Big Furry Deal OUT NOW!
Posted by: Celia Kyle
2014-02-28 -
Panther shifter Millie Walker is finally free, finally knows her real name, and finally… has a mate? Well, crap.

For Millie, having a mate is a horrible, no good, he'll end up very dead, bad idea. She's got what some refer to as a "control problem." In other words: she has no control and that's her problem. So, she stays away from others, keeps to herself, and generally tries not to kill people. Except the pride Prima—Maya—has this "awesomesauce" idea and suddenly Millie's at a pride picnic surrounded by people… and then she meets her mate. Her tall, delicious, please-may-I-lick-you-from-head-to-toe mate. Now she prays her powers don't suddenly decide Wyatt is better off six feet under.

Lion shifter Wyatt Dane knows he's not the kind of man who takes a mate. His own mother proved he wasn't worth loving. But then he meets Millie. Millie with her fiery hair, generous curves, and dangerous powers. He tries to resist her, forces himself to reject her, but then she returns and he realizes he can't let her go. Her powers will just have to figure out how to deal with his presence. He's keeping her. Period.

But someone from her past didn't get the "she's mated" memo and he's determined to have her, no matter the cost.

Warning: Big Furry Deal contains kick ass violence, some potentially trigger content (what do we expect from the bad guy), and copious hilarity. Be prepared for laughing, crying, and cringing. As always, curvy women rock, boys drool-girls rule, and your mileage may vary.

Amazon | Barnes & Noble
Cold Moon Rising by Sarah Makela
Posted by: TRS Staff
2014-02-27 -
Cold Moon Rising by Sarah Makela
Passions flare when the cold moon rises...
Kelly: a normal college girl, who knows what she wants—to survive her final exams, and find someone to share her life with. Studying with Jacob is becoming too hot to handle; she's falling for him, but he's going too fast...
Jacob: a not-so-typical frat guy, who hides a secret—he's a werewolf. Whenever the moon is high, he's driven to shed his human form and satisfy his powerful desires. He craves Kelly, but she's pushing him away...
Fallout: Jacob can smell Kelly's arousal, but she insists she doesn't want sex. A wolf can only take so much before his natural instincts win out. When the tension between them explodes, Jacob has no choice but to walk...
Kidnapped! Kelly is abducted by evil scientists who've mistaken her for a female werecat and, despite their differences, Jacob has to try and find her. But it's a race against time and the lunar tides. The scientists have taken Kelly to their lab and turned her into a shapeshifter for real. The full moon is rising, and soon neither Kelly nor Jacob will be able to control their inner beasts. Who knows what the consequences will be when they are consumed by unquenchable animal lust...
Cold Moon Rising, and the first book in the series, The Witch Who Cried Wolf, are currently $0.99 for a limited time only. Catch up with the series while the sale lasts.
WIN A $75, $50 OR $25 AMAZON GIFT CARD IN THE CLAIMED BY A DEMON KING RELEASE WEEK GIVEAWAY
Posted by: Felicity Heaton
2014-02-27 -

Claimed by a Demon King, the second book in the Eternal Mates paranormal romance series by USA Today best-selling author Felicity Heaton is out now in ebook and paperback.
To celebrate the release, there is a fantastic international giveaway in progress where you could WIN a $75, $50 or $25 Amazon Gift Card as well as some fabulous signed book swag! Giveaway ends March 2nd. Find all the details and ways to enter at my website: Click here to enter.
Claimed by a Demon King
by Felicity Heaton
The moment the demon King Thorne of the Third Realm set eyes on the mortal huntress Sable, he knew she was his fated one. The fiery, dangerous female awakened hungers he had never experienced before, a dark craving and passion that has consumed him in their time apart. As the lunar cycle wanes, she enters his world again and nothing will stand in the way of him claiming his forever with her--not the relentless assault from the Fifth Realm or the dark elf male determined to seduce her out of his grasp.

Intent on achieving the coveted position of commander at Archangel, Sable leads her small team into the dark underworld and the Third Realm, to a war where her allies are the very creatures she normally hunts--vampires, werewolves, and demons. Her eagerness to lead the deadly mission has everything to do with winning her promotion, and nothing to do with the kingdom's brash, lethally seductive demon king--a king who stirred fierce desire and wildfire heat in her with just a look and an innocent touch when they first met, and has been in her wicked dreams ever since.

As the gathering storm between rivals unleashes irresistible passion that flares white-hot and the heat of the battle brings life-shattering realisations, can Sable place her duty before her heart? Or will she surrender to her deepest desires and be claimed by a demon king?

READ AN EXCERPT or BUY NOW





Purple Prose by Sam Cheever
Posted by: TRS Staff
2014-02-27 -
Purple Prose by Sam Cheever
Forget being creatively blocked. Forget being purple. They just want to survive the process of writing the book!
When she hits the writer's block of all writer's blocks, Lindsey Prince thinks her muse has abandoned her. But she opens her door one day to find a gorgeous new one standing there, "anxious" to help her finish her current project. There's only one problem… her new muse, Zahn, has been turned purple by Calliope, Chief of the Muses, for indulging in Purple Prose. Unfortunately, his fate rests on Lindsey submitting a purple prose free manuscript to her editor. No pressure there. To make matters worse, Zahn apparently has a powerful and cranky ex-girlfriend who isn't all that thrilled by the growing attraction between Lindsey and Zahn. She'll do anything to stop Lindsey from submitting that manuscript. Anything. Based on the extremely heated "research" she and Zahn have been indulging in, Lindsey knows her sexy IR story will sizzle. She only needs to live through the process of writing it.
No easy task, that.
"The love scenes were definitely drool worthy and the fast pace had me finishing this in record time. The surprise twist in the end had me giggling and I will be definitely recommending this book to all my friends. I give Purple Prose 5 Delightful Divas and my recommended read for August!" —Dakota, Dark Diva Reviews
Fallen Angels gives Purple Prose 5 Angels! "I grinned my way through Purple Prose - it truly is a laugh-a-minute read. Hilarious situations, witty dialogue, a parrot that adds his own commentary, and two very likeable lead characters make this a book to remember." —Maija, Fallen Angel Reviews
You Gotta Read Reviews: "I liked the whole story plot. The characters are believable, and I liked the fast pace of the book. Sam Cheever packed a lot of story in a small amount of pages. Lindsey was honest and hard-working. Zahn was hot and a god. The ex-girlfriend was all diva bent on revenge. I really loved Mike the parrot, for reasons not to be divulged here. You have to read it for that information. All in all, good characters, good plot, good happy ending, good read."
Riding Desire is out NOW!
Posted by: Suzanne Rock
2014-02-26 - *14 Romance Books, 14 Bestselling Authors, 1 Fierce Savings* Hop on for the ride of your life in this NEW exclusive limited edition box set of 14 never before published books from the industry's hottest authors in contemporary romance. Only $0.99 for a limited time! http://www.amazon.com/Riding-Desire-limited-contemporary-romance-ebook/dp/B00IIRPMC8/
Saving Scott by Terry Odell
Posted by: TRS Staff
2014-02-26 -
Saving Scott by Terry Odell
Can a dead body in a chocolate shop revive a battle-fatigued cop? Or will it take the owner of the shop to save him?
Homicide detective Scott Whelan lived for the job–until the day he was caught in the middle of a robbery gone bad. Although some call him a hero, he thinks of himself as a coward and a failure. He exists now in what he calls his "Dark Place". He accepts a new job as a civilian with the Pine Hills Police Department, thinking being close to the job will be better than leaving it completely. But when he finds himself in the middle of the investigation. Scott has to choose where his loyalties lie—with his brotherhood in blue, or his attractive new neighbor, who needs someone on her side. And figure out how to get out of the dark.
Against her parents' wishes, Ashley Eagan has split from her unsupportive fiancé and moved to Pine Hills to start her dream business: Confections by Ashley. Faced with countless construction setbacks, she fears her plans for the perfect grand opening will be ruined. When a dead body turns up in her shop, a delayed opening is the least of her worries. Now, she's afraid she's facing murder charges. Her new neighbor has connections with the police department, but he's sending mixed messages. One minute he's the friendly, handsome neighbor, the next, he's playing cop. Not to mention he's carrying enough baggage for a world-wide cruise. If Ashley's learned anything since leaving home, it's that she's the only one she can count on.
Buy it today!
Amazon
B&N
Kobo
iTunes
In print at Create Space
Audio

Tales of the Were: Magnus: Redstone Clan #3 by Bianca D'Arc
Posted by: TRS Staff
2014-02-26 -
Tales of the Were: Magnus: Redstone Clan #3 by Bianca D'Arc
A tortured vampire, a lonely shifter, and a deadly power struggle of supernatural proportions. Can their forbidden love prevail?
Magnus Redstone is the middle of the five Redstone brothers. He's the quiet one. The one who keeps to himself more than the others. But he has good reason for his loner status. Two years ago, he met a woman. Not just any woman. This woman made his inner cougar stand up and roar. Even in human form, he purred when she stroked him. She was his mate. And that meant something very serious among shifters. Too bad the lady had fangs…
Following a lead about a very bad man, Mag discovers Miranda being held captive by an evil mage in a cage of silver that burns her. She's been tortured and bled repeatedly as the monster sought to steal her power for his own. Mag frees her and takes her to his home, nursing her back to health and defying all convention to keep her with him. He doesn't ever want to let her go again, but he knows the deck is stacked against them.
When a vampire uprising threatens the stability of the Las Vegas scene, Mag and Miranda are right in the middle of it, fighting against evil. More than just their necks are on the line when a group of vampires seek to kill them and overthrow the current Master vampire of the area. But they have powerful allies, and their renewed relationship has made both of them stronger than either would ever be alone. Will they prevail against all odds, and can they stay together forever? Or will the daylight - and their two very different worlds - tear them apart again?
"Bianca D'Arc has another winner in the Tales of Were series." - BookChick Blog Reviews
What (Not) to Expect When You're Expecting by MJ Fredrick
Posted by: TRS Staff
2014-02-25 -
What (Not) to Expect When You're Expecting by MJ Fredrick
Bailey Summers is very good at taking care of herself. So good, in fact, that she shuts others out with very little effort.
But when her brother and his partner want a child, she pushes out of her comfort zone and offers to be their surrogate. It's just nine months out of her life, right?
Right.
Because of course when she's struggling with morning sickness, she encounters the hottest man she's ever met. To make matters worse, he's the new bartender at her popular bar.
Rick Cassidy comes with his own complications. He's a middle school teacher taking a summer job as a bartender to help out his brother's family. His brother is in a rehab hospital after colliding with a drunk driver, and Rick is trying to help them make ends meet. He's just out of a relationship himself, with a woman who couldn't handle him spending so much time caring for his brother. So what's he doing eyeballing his boss, the boss of a job he needs?
But late nights, close quarters and second-trimester hormones overrule better judgement, and complications intertwine. This is definitely not what they were expecting.
Obsession by Sharon Buchbinder
Posted by: TRS Staff
2014-02-25 -
Obsession by Sharon Buchbinder
A year after a barbaric childbirth, complete with a near-death experience and an encounter with her guardian angel, Angie Edmonds is just happy she and her son, Jake, are alive. She's finally in a good place: clean, sober, and employed as a defense attorney. But at the end of a long work day, she finds herself in a parent's worst nightmare: Jake has been kidnapped and taken across the Mexican border by a cult leader who believes the child is the "Chosen One."
Stymied by the US and Mexican legal systems, Angie is forced to ask the head of a Mexican crime syndicate for help. Much to her chagrin, she must work with Alejandro Torres, a dangerously attractive criminal and the drug lord's right-hand man. Little does she know Alejandro is an undercover federal agent, equally terrified of blowing his cover—and falling in love with her.
"Obsession starts off with a bang and doesn't stop until the end… This book deals with a number of issues, such as cults, human trafficking and the drug trade, and it's clear that the author has done her research. " ~~Mary Bennings, RT Book Reviews
"I loved this book and highly recommend it. I read this in one day because I couldn't put it down and wanted to know what happened." ~~Linda Tonis, Paranormal Romance Guild
"I thought a child being kidnapped, the Mexican cartel, a cult along the lines of Jimmy Jones and a sexy undercover operative – Awesome. Then she adds some other elements I didn't see coming and WOW. It blew me away."~~Sherri J. Fundin, fundinmental: as eye see it
"The book was well written and it flowed so I never felt as though I was missing anything. I enjoyed this book and at times was yelling at my computer. I was enthralled and captivated." ~~Sandie, Book Boyfriend Reviews
"If you're in the mood for a steamy Romantic Suspense that keeps your interest with clever plot twists, emotional angst, and believable characters, then be prepared to obsess over "Obsession" by Sharon Buchbinder. Seriously, this is one of those books you just can't put down."~~Deb Sander, Deb Sanders Romance
"This book is a real page turner, full of suspense, and had me till the end. I also like that it had a supernatural element in there."~~Jessica Figueroa, Escape into a Book
"Obsession is a perfect name for this romantic suspense with a touch of the paranormal because it reflects character motivations, drives the plot, and emphasizes the overall theme of how our own obsessions have the power to stain our souls and destroy the lives of others. "~~Barbara Ann, Sun Mountain Reviews
The Cowboy Rode a Harley by Susan Arden
Posted by: TRS Staff
2014-02-25 -
The Cowboy Rode a Harley by Susan Arden
Waking up chained to a headboard in an unfamiliar room, Stephen swears that drinking and womanizing have got to stop. Until a tempting redhead on the other side of the bed catches his attention.
Gillian can't believe her eyes. A naked man is in her bedroom. Worse, he's her brother's friend, Stephen McLemore best known for his wicked reputation in several counties. With his hard-muscled body and irresistible smile, Gillian's defenses falter. Holy smoke, all of sudden they're face-to-face and the sparks fly in one unguarded kiss.
Their molten connection heats up fast when at every turn, they're tripping over each other in town. Things go from crazy-hot to surreal in a heartbeat when Hollywood producers pick Gillian for their dance reality television show. Refusing to let another man step into his space, Stephen volunteers to be her partner.
In short order, these two lovers realize there's more to their sleepy town than they'd ever imagined possible. In a moment of gallant behavior, Stephen pushes Gillian to follow her dream of leaving town and risks losing the only woman he's let get under his skin.
Amidst chaos and the tugging on her heartstrings, Gillian must decide if fame is what she's dreamed of when a Harley riding rancher has all the right moves.
Warning: Dance teacher hottie and cowboy connect, creating a nuclear explosive love affair. Handcuffs, spanking, and dancing fill this Western love story.
Connie Smith Blog Tour @ TRS
Posted by: TRS Staff
2014-02-25 -
Wilde Riders by Savannah Young
Posted by: TRS Staff
2014-02-24 -
Wilde Riders by Savannah Young
FOUR WILDE BROTHERS…ONE WILDE COUNTRY BAND
WILDE RIDERS is the first novel in a spicy new contemporary romance series about four sexy brothers, their small-town bar and their local country band. WILDE RIDERS can be read as a STAND ALONE NOVEL or as part of the SERIES.
Cooper Wilde spent his entire adolescence counting the days until he could escape rural northwest New Jersey. Now at 26, he can't believe he's coming back. But his late father's bar, Haymakers, is in financial trouble and his older brother, Jake, has asked for Cooper's help.
Riley Smith, 25, is fresh out of her Ivy League MBA program and wants to make an impression on her employer, H & C Bank. Her first solo assignment is a fraud investigation on a business loan they made to Haymakers.
Even though Old Town is less than 90 minutes from New York City, Riley feels like she's stepped into another world in this remote, one-bar town. Riley can't wait to do her business and get back to the city as quickly as her sports car will take her…until she meets Cooper Wilde. He's not like the other guys in this rural town and Riley feels inexplicably attracted to him.
Cupcakes & Cupid by Debora Dennis
Posted by: TRS Staff
2014-02-24 -
Cupcakes & Cupid by Debora Dennis
Welcome to Starlight Hills! Mountain views, small town charm, and one little bake shop, where romance is always on the menu.
While the rest of the town celebrates Valentine's Day with flowers, chocolate, and the annual Cupid Ball, Katie Dixon plans to spend it like every other day…alone, in her nursing scrubs. With a broken engagement in her past, her dreams of cuddling by the fire with the love of her life now involve her cat, chocolate covered strawberry cupcakes, and a book. No lying, cheating men. No wilting flowers to throw away. No more broken heart.
Three years ago when Reed Dempsey left Starlight Hills, he thought he'd left his wounded heart behind too. In love with his best friend's fianceé, he took off to build his life in the city, far away from the ever prying eyes of his small hometown and constant reminders of Katie. Now he's back to get his grandparents' flower shop through Valentine's Day and ready to sell before he falls for Katie all over again.
This year Cupid might need a little help to get these two hearts to the ball. Fortunately, one bakeshop matchmaker might be baking up more than cupcakes!
"Cupcakes and Cupid was such a sweet tale and perfect for the weekend of Valentine's Day."
"This is a sweet novella recommended for a quick entertaining read"
"Loveable characters! This is a sweet heartwarming novella that will tug at your heartstrings."
"A sweet Valentine's read, filled with fun and romance"
"Cupcakes and Cupid. 5 Star sweet holiday romance!"
Champagne and Chocolate by Denyse Bridger
Posted by: TRS Staff
2014-02-23 -
Champagne and Chocolate by Denyse Bridger
From different worlds, drawn by desire, passion is about to change their lives forever…
Austin Standish is a man of refined tastes. Intelligent and educated, Austin enjoys all of the best life has to offer. A gambler, a gunslinger, and a man who has plans to taste the sweetest prize at The Palace Casino and Saloon - the lovely owner, Chantille L'Amour, the most sought after jewel on the Barbary Coast.
Running a high-class brothel and casino isn't exactly the life she was born to but Chantille is determined to overcome the ruin her family was left in once the Civil War ended. But, she has chosen a difficult path… one that demands much and leaves her lonely. She's noticed the handsome man who comes into her world from time to time, and when she chooses to give in to desire, the passion evoked by Austin's touch may change her life forever…
Biting Holiday Honeymoons by Mary Hughes
Posted by: TRS Staff
2014-02-23 -
Biting Holiday Honeymoons by Mary Hughes
That special night with their master vampires is interrupted by Dracula and Santa Vamp. *Paranormal. Hot.*
Short-shorts Biting Halloween (originally Biting Dracula) and Biting Christmas (originally A Biting Christmas Special) updated and expanded. Biting Christmas—Nixie and Julian slide into a hot-tub honeymoon, but things turn nasty when Santa Vamp and Mrs. Claus show up.
Biting Halloween—Elena and Bo's honeymoon in the Dells is derailed when they get run off the road by a vampire. They chase him, only to find out Dracula—the real Dracula—is on the loose. Introduces Glynn Rhys-Jenkins from Biting Oz.
Warning: These titles contain vampires. Fighting, biting, loving vampires. And adult couples trying to have sexy times on their wedding nights. Explicit language. Slang guide included.