Latest happenings at The Romance Studio.
Happy Thanksgiving from TRS!
Posted by: TRS Staff
2014-11-30 - TRS will be closed with no staff available from 11/26/14-11/30/14 for the American Thanksgiving holiday. Thank you! We wish all of you and your families a safe and happy holiday season this year!
New Release & 99 cents sale!
Posted by: Anita Lawless
2014-11-27 -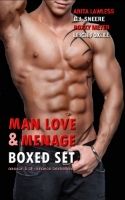 From Amazon & All Romance bestsellers the Wild & Lawless Writers! The heat of passion. Bodies entwined. Love against all odds. This boxed set includes man love and ménage titles from some of our bestselling series! First encounters and second chances. Alpha werewolf brothers collide over family corruption and the love of one man. Women get swept up in the worlds of decadent billionaires, and bad boys meet their match in powerful doms. Available On Kindle USAvailable On Kindle CAAvailable On Kindle UK
Kissa Under the Mistletoe by Courtney Sheets
Posted by: Decadent Publishing
2014-11-27 -



Professor Lucas Slate is sexy and smart and can have any woman in the world. What could he possibly want with his size fourteen best friend Kissa Nazir? When he asks her to go with him to London for the Christmas season, she thinks it is friendly moral support. But what she does not know is Lucas has other plans in mind for her.

For five years, Lucas has waited for a chance to show the beautiful bellydancer he can be more than just a friend. Not taking any more chances on her love, he will lie if he has to, cheat all the fates, and whisk her away for the holidays. One way or another, Lucas plans to live out his long-awaited fantasy. At the end of this holiday season, he is stealing more than a "Kissa Under the Mistletoe".

Read an excerpt and get your copy today!




The Earl and his Virgin Countess by Dominique Eastwick
Posted by: Decadent Publishing
2014-11-26 -



Lord Andrew Masterson, Earl of Windenshire has had a string of bad luck with women. While his best friends are all getting leg-shackled, he can't seem to get a lady to stay in his presence long enough to court them. Not sure what he might be doing wrong, he turns to Madame Evangeline, hoping she can help him change his luck.

Betrothed since before her birth to Lord Masterson, Miss Miranda Beauchamp has prepared to be his countess ever since. Although the Earl of Windenshire maintains her upkeep and pays for everything she needs, she might as well not exist for all the attention he pays her. Determined to break the marriage contract, she'll go to desperate measures to achieve her goal.

Can Madame Eve show Andrew and Miranda there is more than a contract between them? Or will family secrets and years of hurt be too much for the earl and his virgin countess to overcome?


Read and excerpt and pick up your copy today!





Thanksgiving Party @ TRS!
Posted by: TRS Staff
2014-11-25 -




We are celebrating the American Thanksgiving holiday with our yearly Thanksgiving Party! We are giving away a Amazon gift ecard (electronic gift card only, value $100 minimum) to one lucky reader and we are giving away a lot of other prizes from the TRS prize vault and participating authors too!

Featuring:



A Romance For Christmas by Kayelle Allen
A cop at the door on Christmas Eve brings an unexpected gift.



His Omega by AC Katt
Werewolf Armand stops for a hurt boy. He is Armands mate. There is one problem, someone means to kill Sean.



To Tame a Highland Earl by Tarah Scott
No gentleman breaks into a ladys bedchamber but then, no lady sleeps with a pistol under her pillow.



Hunter's Mark by V.S. Morgan
He is in danger of losing his heart and his life.

Where is it going to be held?

The event will be held exclusively at our PARTY SITE.

When is it going to be held?

From November 21-25, 2014. Times? All day!

When will the prizes be given out?

The winner of the gift card will be selected at random on November 26, 2014. Other prizes from TRS and its participating authors will be assigned at each donors earliest convenience following the end of the event.

Okay so HOW do I enter for the gift card?

Our authors will be posting during the event period at our PARTY SITE about their latest books and other entertaining topics. Comment on any of the posts at any time during the event (should be at least acceptable/polite comments because comments in poor taste may result in exclusion from the event), and fill out the gift card entry form that will appear at the party, and you will be entered into the drawing for the Amazon gift ecard.

How do I enter for the other prizes?

For other prizes donated by TRS and all participating authors, there will be easy to use giveaway forms at the PARTY SITE.

Which authors will be attending?

A.L. Cook, Albert Nothlit, Amanda Bretz, Anita Lawless, Ann Raina, Anne Kane, Ariel Storm, BJ McCall, Brita Addams, Carol Burnside / Annie Rayburn, Cate Masters, Christine Ashworth, Christine Murphy, Clover Autrey, E. Jamie, Eva Lefoy, Haley Whitehall, Izzibella Beau, Jenna Fox, Jewel Adams, Joan Chandler, Julia Talbot, Kate Hill/Saloni Quinby, Katie Bryan, Kayelle Allen, KC Vixen, Kimberly Dean, Kirsten Lynn, Kristina Knight, Kymber Morgan, Lacey Roberts, Laura Harner, Liana Laverentz, Linda L Picl, Linda Palmer, Lucy Felthouse, Maggie Adams, Margaret Tanner, Mary Hughes, Megan Slayer, Miriam Newman, Monica Burns, Naomi Bellina, Natalie Alder, Natalie J. Damschroder, Natasha Blackthorne, Paige Tyler, Palessa, Paloma Beck, Patricia W. Fischer, Rachel Brimble, Renee Michaels, Robyn Echols aka Zina Abbott, Roz Lee, S E Gilchrist, Scarlett Jade, Selena Illyria, Sharon Kleve, Shiloh Saddler, Susan Horsnell, Tianna Xander, Tina Donahue, Titania Ladley, Tory Richards, Tracey Alvarez, Vijaya Schartz, Wendi Zwaduk, Yolanda Ashton

We'd love to see you there!
New Release
Posted by: Shona Husk
2014-11-25 -
Silke is torn between the sensible choice of Captain Grady and the more dangerous attraction she has for the prisoner Vance. When disaster strikes ES Siren and threatens the lives of everyone on board Silke realizes that that sometimes no choice has to be made. Why should love have limits?

(Books 1-3 in the ES Siren are currently free)

Purchase links:
iTunes
Amazon
Kobo
Barnes and Noble


"The Serpent's Tooth" trilogy: Book Three by Kathy Fischer-Brown
Posted by: TRS Staff
2014-11-24 -
"The Serpents Tooth" trilogy: Book Three by Kathy Fischer-Brown
Faced with an impossible choice, Anne Marlowe is torn between her husbands love and the hope of her receiving fathers forgiveness. As American forces follow up on their tide-turning victories over the British at Freemans Farm and Bemis Heights, Peter is drawn deeper into the shady network of espionage that could cost them both their lives.
Is his commitment to "the Cause" stronger than his hard-won love for Anne? Will her sacrifice tear them apart again…this time forever? Or will they find the peace and happiness they both seek in a new beginning?
The Partisans Wife follows Anne and Peter through the war torn landscape of Revolutionary War America, from the Battle of Saratoga to British-occupied New York and Philadelphia, and beyond.
"I absolutely loved this book! The attention to detail was incredible…. From the actions and speech patterns of her characters to the way the settings were depicted, I could feel like I was living during the Revolutionary War, watching the story as it unfolded…." — Once Upon a Book
"… beautifully told with lots of detail and exciting pace. I found myself staying up late at night just to see what was going to happen next, and in the moments that I couldnt read I was always thinking about it. The Serpents Tooth Trilogy is an excellent read that you should not let pass you by!" —Unabridged Andra
Friends With Benefits by Jenna Bennett
Posted by: TRS Staff
2014-11-24 -
Friends With Benefits by Jenna Bennett
What Kaylee Carter needs, is a friend with benefits.
Health benefits, that is.
An accidental pregnancy has left her jobless and broke, with no money to cover her car payment or rent, let alone prenatal care and childbirth.
When next door neighbor Owen Taylor offers a marriage of convenience – room, board, and medical insurance – its an answer to prayer. But as they settle in together, Kaylee can not help but wonder what Owen gets out of the deal.
What Owen Taylor wants, is Kaylee Carter.
Nice guy Owen has been quietly pursuing Kaylee for months, but she has never given him the time of day. Now that he has gotten her into his life and his bed, he is not about to give her up.
But when Kaylees baby daddy comes knocking, what will Kaylee do? Does she choose her husband, or her babys father? The man who knocked her up… or the one who put the pieces together afterwards?
Playing the Game by Stephanie Queen
Posted by: TRS Staff
2014-11-24 -
Playing the Game by Stephanie Queen
On Sale for $.99!
The Snap on the Story
The "Priest" of basketball, superstar Barry Dennis, needs to get knocked down a peg and so-called "black widow" Roxanne Monet is the woman to do it–if she can keep herself out of jail after being accused of murdering her wealthy husband.
Since her disastrous marriage ended, Roxanne Monet has sworn off serious relationships with men. She has more important things to worry about, like no money, no job and accusations of murdering her wealthy husband. But when she meets superstar Barry Dennis and he challenges her to a game of seduction, she decides to play ball. When the game turns serious, she unintentionally exposes the legend to be a flawed man.
Barry Dennis picked the wrong woman to play games with when he decides to flirt with the enigmatic Roxanne. Being the best takes all he has. He can not afford to let anything or anyone interfere with his first and only priority—Basketball. But as the attraction between them heats up, he finds himself losing sight of his lifes game plan.
While the sports worlds microscope is trained on Barry's game and the media hounds Roxanne about her husbands mysterious death, the stakes are ratcheted up even higher when Barrys young daughter, Lindy is injured. Roxanne gives Lindy the attention she needs while Barry struggles to cope with the demands of his new priorities.
Can Roxanne rely on Barry to do more than play ball? She takes the risk and gives him the last thing she owns—her heart.
4.5 Star Review—Romantic Times Book Review "Reading Queen is an absolutely scrumptious experience. Readers will fall in love, get heated, laugh and have an energizing adventure. The story has sublime settings, smooth writing that melds into a well-developed plot and characters who come alive like Pop Rocks and carbonated beverages."
samcheever@samcheever.com
Posted by: Sam Cheever
2014-11-21 -




He just wants her to take life a little more seriously. She's decided he could have a point. Especially now that somebody wants her dead.

Dolfe Honeybun broke up with Blaise Runa because her party girl ways were driving him to distraction. Unfortunately, out of sight does NOT mean out of mind. And when his favorite party girl sees something she shouldn't and finds herself being chased by a cold blooded killer… reason shuts down and Dolfe's heart takes over. If only he can get to her in time!

Buy HoHo Honeybun Today!
Let me bring your favorite fantasy to life!
Posted by: Lisabet Sarai
2014-11-21 - My November newsletter highlights a contest where you could win a custom story based on your favorite fantasy - as well as bookstore gift certificates! For details go to: http://www.lisabetsarai.com/news.html
Tempting Her Tiger by Virginia Cavanaugh
Posted by: TRS Staff
2014-11-21 -
Tempting Her Tiger by Virginia Cavanaugh
As a young girl, Stacia Carter had a crush on her brothers best friend, Jordan Bayne. Grown and independent, she heads off to college and her destiny—to make him notice her as more than just the girl next door. After all these years, there is no way she will take no for an answer. Seeing Stacia again rocks Jordans world. She is gorgeous, feisty, and hot…and also his best buds sister. No way can he have her for his own. But resisting the temptress proves harder than he thought.
When a male from a rival pride attempts to steal Stacias affections, Jordan sees red. No one is good enough for her…not even himself. But the feline temptress stars in his every fantasy. Maybe one more kiss will satisfy his hunger for her.
She Speaks to Angels by Ami Blackwelder
Posted by: TRS Staff
2014-11-21 -
She Speaks to Angels by Ami Blackwelder
What if everything you believed was a lie?
A Suicide
Seventeen year old Allison Maney attends Millennium High School in Manhattan. Nothing out of the ordinary, unless you consider the occasional suicides at the school. At least that is what everyone is told, what everyone believes. But Tommy Bachelor was a popular football player; why would he jump off the roof of the school?
Dangerous Liaisons
When Dameon pays attention to Ali, she could not be more excited, because for the past three months he was all she could think about. But now that Dameon is finally pining for her affections, she is becoming more and more wrapped up in a clique of three who, as new transfers to the school, are proving to be trouble. But at least Dameon loves her, does not he?
A Soul Purpose
The underworld of angels and demons have one thing on their mind: Earth. Demons want to do what they want. Angels want to protect humans from these rogue angels, AKA: Demons
A Suspenseful Romance
Caught between Dameon and Kian, the suicide and the clique of three, Ali wont know who to trust…or who to love, because for Allison Maney, everything i not exactly what it seems.
A new release from Jess Dee
Posted by: Jess Dee
2014-11-21 - Table for Two is now available!
James Elliot never meant to barge into his friend's bedroom, but now that he's caught an eyeful of Olivia Taylor, butt-naked, he can't seem to imagine her any other way
TABLE FOR TWO, book 2 in the Sunday Night Dinner Club Series is now available at your fave e-bookstore. Read this red-hot, friends-to-lovers romance as stand alone book or as part of the series.
You can find it at: iBooks , Barnes & Noble and Amazon.
Release Party @ TRS 11/20/14!
Posted by: TRS Staff
2014-11-20 -




Join us for a fun party tomorrow, November 20th, enter for prizes and chat with your favorite authors at our party site.

Featuring:


Her Avenging Angel by Felicity Heaton

Merry Christmas, Henry by Aubrey Wynne
On Christmas Eve, Henry dares to take a chance on love and fulfill his dream.



Assassins Bite by Mary Hughes
Newly minted cop Sunny Ruffles tries to arrest mysterious and deadly vampire Aiden Blackthorne.



Twisted Love by JoAnne Myers
12 riveting true cases of obsession, lust, murder, secret lives, and sexual depravity, when love goes bad.

Authors attending:
A.L. Cook
Cornelia Amiri
Eva Lefoy
Jan Scarbrough
Jessica E. Subject
JoAnne Myers
Karenna Colcroft
KC Vixen
Kirsten Lynn
Lacey Roberts
Monica Burns
Phaze Books
Susan Horsnell
Tina Donahue
Tory Richards
High Risk Fever by Lea Bronsen
Posted by: TRS Staff
2014-11-20 -
High Risk Fever by Lea Bronsen
Two young and indecently handsome bicyclists visit a village in the French Alps during the summer holidays. Forced by a raging storm to spend the night at a bed & breakfast, they invade the quiet lives of hostess Anne and her husband, Brian.
A power outage plunges the foursome into darkness, encouraging new liaisons to form, life-long secrets to be unveiled, and steamy lessons to be learned. But once the storm moves on, can the four find a balance and resume their normal lives?
The Billionaire Princess by Christina Tetreault
Posted by: TRS Staff
2014-11-20 -
The Billionaire Princess by Christina Tetreault
On sale for 99 cents for a limited time!
Self-made Christopher Hall has always admired his best friends sister, Sara Sherbrooke, from afar but he has never dared take it any further. At least not until a one night stand following Jakes wedding makes him believe his attraction might not be one sided. Soon both must decide if their growing romance is worth the possible consequences.
"Saras Story is Superb!!"
"LOVED this book it is a definite must read"
Captured and Seduced by Shelley Munro
Posted by: TRS Staff
2014-11-20 -
Captured and Seduced by Shelley Munro
A shapeshifter and a wizard slugging it out, an alien world and a hell-horse…
Jockey Camryn OSullivan is an alcoholic on a downward spiral after the death of her husband. When aliens kidnap her, she is both terrified and reluctantly fascinated by Ryman Coppersmith. She is positive the weird attraction to her abductor is an anomaly. Something to ignore. She will train the aliens horse and they will return her home. Simple. There is no need for sex or a stubborn male kitty-cat to replace the precious memories of her husband.
Murder. Betrayal. Banishment.
Feline shapeshifter Ry has experienced treachery of the worst kind. When his foster brother—the man who betrayed him—proposes a wager on a hell-horse race, the lure to clear his name is irresistible.
Camryns arrival triggers a jump in his already overactive sex drive. It is a struggle to keep his hands off his beautiful captive. Something in his mysterious feline background compels him to chase her and the passion firing between them soars out of control. Ry does not understand the mechanics of their attraction but knows he can not afford to lose Camryn…despite his promise to return her home.
Slumber by Cassandra Dean
Posted by: Decadent Publishing
2014-11-19 -



Tailor of the kingdom of Dormiraa, Sebastian has finally found the Princess Thalia and must escort her to the capital to be confirmed as queen. Many seek to stop her from claiming the throne, but is the most dangerous threat that he's falling in love?


Click here for an excerpt.




The Odor of Violet by Ju Ephraime
Posted by: TRS Staff
2014-11-19 -
The Odor of Violet by Ju Ephraime
After losing his sight in a terrible accident, only to learn that the woman he was planning to marry did not love him enough to accept him, Damien Falconer was devastated. Struggling to cope with his disability, he isolated himself from society, allowing no one to get close to him, but his personal assistant, Jake. Upon learning Jake was soon to leave his employ and return to Scotland, Damien was forced to advertise for his replacement.
Among the applicants who answered his ad was Lisa Andrews, a registered nurse from Connecticut. But Damien was adamant that he would not be replacing Jake with a woman. His argument was, he did not feel comfortable with a woman doing the things that Jake did for him, but one whiff of Lisas unique scent and Damien found himself fighting a blistering physical attraction the likes of which he would never known before. Should he hire her or should he ignore what his "other" senses were screaming at him, about this woman. Damien rustled with the question for several days, but in the end, he caved. And so began a hunger for a woman he could not see…could only recognize by her unique scent…yet wanted like he'd never wanted anything before.
Kentucky Blue Bloods by Jan Scarbrough
Posted by: TRS Staff
2014-11-19 -
Kentucky Blue Bloods by Jan Scarbrough
No one crosses Parker Stuart, caretaker to his familys thoroughbred racing empire. Parker retaliates against anyone who dares slight him or his blue-blooded British family, especially Regina Ward and her poker-playing father. The previous spring, Reggie had had the nerve to walk out on him after a torrid, three-week affair. Now, when Parker arrives in Kentucky to collect his familys winnings, he is determined to settle the score with the lovely Ms. Ward.
Regina Ward does not consider herself a damsel in distress. After all, this is America, and she is accustomed to depending upon herself. However, when her father loses four of the yearlings from their central Kentucky horse farm in a poker game, Reggie knows it is up to her to save what is left of her familys homestead and her proud Kentucky heritage. Can she do it when Parker Stuart, the most arrogant and infuriating Brit she has ever met, shows up in the Bluegrass?
The Initiation of Ms. Holly by KD Grace
Posted by: TRS Staff
2014-11-18 -
The Initiation of Ms. Holly by KD Grace
Journalist, Rita Holly, never dreamed sex with the mysterious Edward in the dark of a malfunctioning train would lead to a blindfolded, champagne-drenched tango, a spanking by a butch waitress, and an offer of initiation into the exclusive mysteries of The Mount. Desperate to save her threatened job, she agrees, scheming secretly to write an inside exposé on the club that will make her career. But as she delves deeper into the intrigue of The Mount and the lives of its members, she soon discovers that her heart may have other plans.
"The Initiation of Ms. Holly is so hot I am still tingling a day after I finished reading this novel. This spicy number will heat you up and keep you fully charged for days to come." – Coffee Time Romance
"This story had an exciting plot with some twists and turns, a cast of very colorful characters, some angst, a plethora of amazing and erotic sex and lastly a beautiful love story. Rita and Edward went through all kinds of kinky hell to get where they wanted to be….and I loved being on this journey with them! A great first read for me by K.D. Grace. Can not wait to get my hands on the next book in The Mount series, Fulfilling the Contract." Violet Blue
Skillfully written to provide a provocative blend of kinky sex with subtle mystery. Simply put, this book is a page-turner for the erotic reader." The Romance Reviews
To Kiss a Lord by Jessica Coulter Smith
Posted by: TRS Staff
2014-11-18 -
To Kiss a Lord by Jessica Coulter Smith
Clarissa Townsend has given up on anyone ever wanting to marry her. It isnt that she is ugly, because she has been told by many that she is quite beautiful. It is her blasted limp. A carriage accident when she was fifteen resulted in ugly scarring on her leg, and left her with a horrible limp that keeps her from dancing, and sometimes walking.
Lord Robert Cresthaven came to America in search of a bride, and the moment he sets eyes on Clarissa, he knows he's found her. With her raven locks and pale complexion, she is the most beautiful creature he has ever seen. Her limp does not detract from her beauty in his eyes and he is determined to have her, at any cost.
A scandal. An unwanted marriage of convenience. And a damsel in need of rescue.
When Lord Cresthaven is caught kissing Clarissa at a ball, it is all anyone can talk about. But things dont go according to his plan. He had every intention of marrying her, until her parents locked her away and promised her to another. What is a lord to do when the only woman he has ever wanted to marry is kept out of his reach? Anything necessary.
The Star Princess by Jessica E. Subject
Posted by: Decadent Publishing
2014-11-18 -

In one week, Princess Rosa will board a spaceship, leaving her home on Minjet for Earth. Will she find a way to be with the Terran man who steals her heart, or be forced to marry the planet's egocentric prince?


To learn more about this latest story in our Beyond Fairytales line, click here.
A new release from Jess Dee
Posted by: Jess Dee
2014-11-18 - One sip of passion leaves them thirsty for more…
Kisses Sweeter Than Wine, the final story in the Tastes of Seduction series is now available. Enjoy it as the end to the trilogy or as a stand alone book, but make sure to have a glass of wine at your side. You're gonna want to take long sips as the story heats up. You can find your copy at Samhain Publishing, iBooks Barnes & Noble and Amazon.
Courting the Devil by Kathy Fischer-Brown
Posted by: TRS Staff
2014-11-17 -
Courting the Devil by Kathy Fischer-Brown
Four years after a near fatal blunder uproots her from her home and inheritance, Anne Darvey, daughter of the Marquess of Esterleigh, finds herself an indentured servant on a farm near Fort Edward in New York, as the British army advances toward Albany. Driven by guilt over the pain she has caused her father and grief over her lover's death, she sets out to deliver a message. The consequences lead to the discovery that all is not as it seems, and sets in motion events that lead to love and danger.
Set against the backdrop of the American Revolution, Courting the Devil is the second book in "The Serpents Tooth" trilogy, which follows Anne from her childhood in the rural English countryside, to London society, and into the center of the American Revolution.
"...a high caliber historical drama. I commend Ms. Fischer-Brown on her research and attention to detail. It moves well with interesting characters and story lines... Two thumbs up for Courting the Devil." -- Writer Wonderland
"... kept me in suspense and filled with anticipation of what was to come. This book was written with gentle reminders and hints of the past without rehashing the original story and the scenes were descriptive and engaging….I like the Anne of this book a lot more than the previous book. It is clear she has grown up a bit and sees things differently." — Romantic Historical Lovers
Saved by the Trickster--out now!
Posted by: Shona Husk
2014-11-17 -
Zander has one month to prove he deserves to be let back into heaven. As a Celestial warrior he should've known better than to steal ambrosia. Now banished and forced to live as a mortal he has to prove that he still carries the Light in his heart and that he hasn't succumbed to the Darkness.

Lysanna is a Trickster, a demi-god charged with making people believe in Light and hope. She travels the world creating magic and wonder, taking human assistants to help on stage and warm her bed. Somehow they always betray her, and they always leave.

When he meets Lysanna, he knows what she is. What he doesn't expect to discover are the pleasures of being human, and the lust he finds in the Trickster's bed. He'll have to choose between his duty to heaven and Lysanna.

Purchase link
Amazon

Tempting Her Tiger by Virginia Cavanaugh
Posted by: Decadent Publishing
2014-11-17 -


As a young girl, Stacia Carter had a crush on her brother's best friend, Jordan Bayne. Grown and independent, she heads off to college and her destiny—to make him notice her as more than just the girl next door. After all these years, there's no way she'll take no for an answer.

Seeing Stacia again rocks Jordan's world. She's gorgeous, feisty, and hot…and also his best bud's sister. No way can he have her for his own. But resisting the temptress proves harder than he thought.


Click here for more information on the latest ROAR!




A Romance For Christmas by Kayelle Allen
Posted by: TRS Staff
2014-11-17 -
A Romance For Christmas by Kayelle Allen
By Kayelle Allen
A cop at the door on Christmas Eve brings an unexpected gift.
A sweet holiday romance showcasing love, loss, and the spirit of giving.
It is Christmas Eve, and the end of a year in which everything Dara loves has been lost. Everything but her little girl and a fierce determination to survive. When a cop brings Christmas to her door, he brings another gift she never expected to get.
Music: O Christmas Tree, piano performed by Vladimir Sterzer, licensed by Jamendo.com Images courtesy of PhotoXpress.com and RGBstock.com
Giveaway
Peek inside the book for background on the story, the reason for the names, excerpts, buy links, and more: here
Campus Cravings featuring Cassandra Carr
Posted by: TRS Staff
2014-11-17 -
Campus Cravings Featuring Cassandra Carr
Only for sale until the end of the year so dont miss your chance! This anthology was nominated by the Goodfreads M/M romance group for their 2014 Members Choice Awards for Best Anthology!
Welcome to Cathia University, where school is in session! Nine of todays hottest gay romance authors have crafted brand-new interrelated novellas celebrating everything wonderful about college, with over 200,000 words featuring sophisticated professors, sexy teaching assistants, ambitious grad students, and spirited undergraduates, all looking for the same thing: an A+ in true love.
Annabeth Albert: Winning Bracket
Metrics and tournament brackets—who knew they were sexy? When competing dorm advisors Edwin and Ollie bet on a basketball tournament, neither expects hes risking his heart. As the challenge becomes a hot bedroom battle to avoid real feelings, the two "frenemies" must change their definitions of losing to win a shot at lasting love.
Cassandra Carr: The Eloquent Jock
Hockey jock and English Lit major Brendan knows he's gay, but hasnt come out to anyone, fearing a possible backlash. Then hes tapped to be a TA for a hot professor and feels an immediate connection. Now he must decide how much hes willing to risk to score the ultimate goal.
Dalton Diaz: Lesson Learned
Adam Warren is counting down the days until he can put "Professor" next to his name—and his disastrous past with Tyler Ford behind him. When a fluke puts Tyler in Adams class, the graduate assistant faces some hard choices while Tyler faces an uphill battle for a second chance at first love.
Mia Downing: Switching Leads
Coach John Graham needs a new assistant for Cathia Us equestrian team. The last person he expects to get the job walks into the barn and stops his heart. How is he supposed to focus on the team when his ex-lover—sexy horse trainer Finn Parker—wants back into his life…and into his bed?
Whitley Gray: Artistic Endeavor
When friends ask one-night stand connoisseur Michael Esteban to introduce shy virgin Cobey Miller to the joys of sex, Michael balks—lust is his thing, not teaching. But Cobeys problem meeting men fuels Michaels decision to help Cobey become a gay-sex-loving guy. It will all be fun and games—unless someone falls in love.
Bianca Sommerland: Solid Education
Gage Tackett comes off as a bad boy—detached and maybe a little dangerous. Definitely not Vet Sciences Professor Derek Paulsons type. When Gage arrives at Dereks veterinary clinic with a frostbitten stray dog, Derek realizes his most difficult student has a few things to teach him. Things hes more than willing to learn.
KyAnn Waters: Private Lessons
Ryan Kane could lose his scholarship and his position on the pitch. Jake Finely offers to help. Only Ryan and Jake discover their private lessons have more to do with sex ed than Business Ethics. When a tenured professor offers Ryan an indecent proposal to make the grade, will he choose soccer or Jake?
LA Witt: Did Somebody Order a Pizza?
Paul Switzer has been miserable ever since his childhood love, Cory Bowman, chose a fraternity over him. When a pizza delivery to the frat house lands the exes face to face for the first time in eighteen months, the wound is reopened… and so are Pauls feelings for the only man hes ever loved.
Sara York: The Dust Of Everyday Life
Cole only has the courage to lust after the swim team from afar. When Seever asks to share a table at the packed coffee house where Cole is studying, hes sure its a joke. But after one touch and one scorching kiss, Cole thinks the chance meet could lead to something with substance.
An excellent collection of stories set on same college campus, where men find passion and love with other men, the courage to be themselves, and support in surprising places. - Rainbow Gold Reviews
This collection blew me away with not only the amazing stories that were in it, but also the way that the authors were all able to build off of each other and create a whole town for us to visit. - Crystals Many Reviews
I absolutely loved the variety of men that I followed into their fun college endeavors. The falling in love and hot guy on guy loving was just an added bonus to this great anthology. - The Jeep Diva
A compilation of stories that had me wishing I was back in college. The authors all presented great characters and unique situations, and I learned a lot about a lot of new to me sports. The stories are sexy, fun, and well-written. I highly recommend. - For the Love of Bookends
Frosty Relations by Tara Quan
Posted by: Decadent Publishing
2014-11-14 -



Attorney Jack Frost never understood why holidays did weird things to people. His secretary went on vacation, his best friend ditched their annual Aspen trip, and the law firm's stubborn human resources assistant refuses his clerical support request. What's a warlock to do on Christmas Eve but go on a 1-Night Stand? But when an oddly familiar empath shows up as his date, this ice mage has a hard time denying the magic of the winter solstice.


Pick up a copy today!