Cloak and Dagger
Posted by: Kate Hill/Saloni Quinby
2013-05-23 - Will the love between hunter and prey destroy them both?
Cloak and Dagger by Saloni Quinby
(M/M Vampire)
Now available from Changeling Press.

New Release! Pajama Party by Kelli Scott
Posted by: Decadent Publishing
2013-05-22 -



Pajama Party


by Kelli Scott




When longtime friends, Tracy, Ashlin and Dara head to Las Vegas for a mini vacation and a little female bonding, the plan is simple: cut loose, drink a little, dance a lot, gamble and take in a male strip show. Once they've checked those activities off their itinerary, the three gals improvise and make a new plan. A pajama party that takes a turn—not for the worse—for the wild. With the help of a bag of sex toys, they put themselves on each other's to-do list with some unexpected results that might test the bonds of their friendship, changing the dynamics forever.

New Contemporary Romance! The Midnight Masquerade by Monica Corwin
Posted by: Decadent Publishing
2013-05-22 -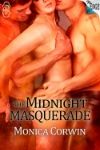 The Midnight Masquerade


by Monica Corwin




Rumored to be the most debauched party of the year on the East coast, The Midnight Masquerade has only two rules: no one leaves and the masks stay on until midnight.

But what kind of trouble can Hannah and two handsome strangers make before midnight?.

New 1Night Stand Series! The Perfect Sub by Jayson Locke
Posted by: Decadent Publishing
2013-05-22 -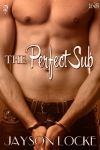 The Prefect Sub


by Jayson Locke




Drew Prescott thinks he has to be perfect to attract the Dom of his dreams. However, after a year of repressing his true personality, he must face the fact that Dominant Holt Benedict still isn't interested. In a desperate effort to move on with his life, he contacts Madame Eve, requesting a Dominant who will make him forget Holt so he can try to heal his broken heart. But when his date demonstrates a different way of seeing things, their one night changes everything and forces Drew to recognize the difference between being a perfect sub and offering perfect submission to the man he craves..
All the latest happenings >>
---

Ian just wanted to finish his book. The Fates had other plans...
---

Two Men need Madame Eve's help to cross the bridge from friends to lovers in a Caribbean paradise 1Night Stand
---

Wendy's past has come to hunt her down and the pack alpha, Brett, has different ideas. He's hunting her heart.
---

Taylor Brooks brings us five sultry stories of what can happen in Southern California when things get hot.
---
---

ePub, Mobi, PDF, banner and TRS ad. Buy at intro price, next 5 same cost.
---

Ian just wanted to finish his book. The Fates had other plans...
---
---

When love is forbidden, the whole world's a prison.
---

Everyone is dead, or worse than dead, and the only other survivor is a man he's not sure he likes...
---
Cassandra Carr

Hockey player Jason Monroe lives a double life -- star defenseman and soon-to-be Olympian on the ice and closeted gay man outside the rink. A serious relationship is out of the question, and Jason makes do with anonymous sex in barroom bathrooms, not willing to take the chance on coming out as gay in a decidedly macho sport.

Advisor to the US Olympic hockey team Patrick Parker knows a thing or two about being a professional hockey player who's not out. He's fifteen years older than Jason, and when he senses the sexy younger man is interested, he knows he shouldn't give in to the attraction. The two men can't keep their hands off each other, though, and with each heated encounter it gets harder to hide their relationship. Then their world blows up around them, forcing them into the limelight. Will their love survive or be put on ice?


Order today from Amazon!
---

www.dreamspinnerpress.com
---

Order today from Dreamspinner Press!
Diana DeRicci

The hole in Tony Teagan's heart is slowly shrinking. Since losing the love of his life, he's buried himself in running West TonDe Press, but now he can remember the good times. Still, that doesn't mean he's ready for a new man in his life. Then he meets nighttime delivery guy Brandon, who appears on his doorstep with Thai food. Tony's interest is piqued despite their ten-year age difference, and Brandon is all for a new relationship. Relinquishing his hold on his deceased lover is the hardest challenge Tony will face, but if his future is combined with Brandon's, he may have a second chance at love after all.
---
---
---

Characters you'll love. Romance you'll never forget.
---

www.ambureallure.com
---

Today's top stories from today's top authors of LGBT Romance.
---

From serene to exotic, come capture love.
---

Enticing, entrancing, romantic, erotic. Filled with heroes to love.
---
Join The Romance Studio at Yahoo Groups:
---
Join The Romance Studio BLUE at Yahoo Groups:
---
Join The Rainbow Studio at Yahoo Groups: