Green Book of Grown-Up Fairytales
Posted by: Decadent Publishing
2015-05-22 -


A magical traveler. A sleeping princess. An unsure reunion. An impossible task. A widow wronged.
Five fairytales retold. If you thought you knew them, you were wrong.


Click here to learn more







The Wolf and the Butterfly by Kerry Adrienne
Posted by: TRS Staff
2015-05-21 -
The Wolf and the Butterfly by Kerry Adrienne
Nika, the pack's newest scout, wants nothing more than to please his Alpha. When he discovers a beautiful, and very sick, stranger in the woods outside Los Lobos, he finds himself torn between his duty and his hormones. The stranger carries a deadly wolf virus—one that hasn't been seen in the Black Hills in ages.
Kimi, a Lakota Sioux, is dying. She's transported herself forward in time, hoping to find the cure to the illness that's stricken her tribe. Her only chance for survival is to trust Nika, even if she's not used to having help.
To find the cure and save the pack, Nika and Kimi must travel to a time long ago—before the Lakota populated the Black Hills—a time filled with dangers neither can imagine. Their growing attraction may save them, or kill them both.
Release Party @ TRS May 21st!
Posted by: TRS Staff
2015-05-21 -




Join us for a fun party tomorrow, May 21st, enter for prizes and chat with your favorite authors at our party site.

Featuring:



Tradepaper available now!

Authors attending:
Izzibella Beau
JoAnne Myers
Lacey Roberts
Lisa Carlisle
Megan Slayer
Normandie Alleman
Rosanna Leo
Susan Horsnell
Tina Donahue





Of Love and Vengeance by Louise Lyndon
Posted by: TRS Staff
2015-05-21 -
Of Love and Vengeance by Louise Lyndon
Forced to marry Lord Aymon to ensure her young nephew's survival, English Lady Laila vows undying hatred for the Norman she holds responsible for the deaths of so many innocents. Discovering Aymon has committed an act of treason gives her the chance to seek vengeance he deserves. But can Laila let Aymon die at the hands of the king once she learns the truth?
A hardened Norman warrior, Lord Aymon has lived through atrocities no man ever should. With the invasion of England over, all he wants is a quiet life and a wife who will give him heirs and obey his every command. Instead, he finds himself wed to feisty and outspoken Laila. But when she learns the truth of his treasonous act, can Aymon count on her to keep his secret?
His To Command by Monica Burns
Posted by: TRS Staff
2015-05-20 -
His To Command by Monica Burns
From the moment John Fordyce saved Charlotte Clayworth from drowning at the age of five, the two of them have been inseparable. Trapped in a deserted farmhouse on a blizzardy Christmas Eve, John desperately struggles to control his desire for the woman he's grown up with. When a small act of discipline compromises Charlotte, honor requires John to make a marriage proposal different from the one he intended.
When Charlotte realizes she's in love with her best friend, she can't contemplate another man caressing her the way John does. But when he states they must marry to save her reputation and satisfy his honor, she refuses. The thought of their friendship dissolving into a marriage embittered by a single indiscretion horrifies her.
Their friendship crumbles as they go their separate ways until a close-knit group of Self-Made Men decide to meddle in their mentor's love life and reunite the two lovers. But will John and Charlotte realize they both have the same wish—that the best of friends make the best of lovers?
"Monica does NOT disappoint her readers in this expanded version of HIS TO COMMAND! Holy HOTNESS and talk about creating curiosity and adding another Book Boyfriend to my list! Cannot wait until the next one!!" — Viviana Izzo - Amazon
"I seriously loved the secret, naughty lovemaking and think that I would really like to read more of the stories by Ms. Burns. She knows how to write her sexy times! A strong 4 to this short short prequel to the Self-Made Men Series." — It's About The Book
"New author for me and I am delighted! This was such a wonderful friends to lovers story….that joyously rights itself in the end! I MUST tell you, John's got himself a little Dom in him and Charlotte likes it! ;)" — Jessica Alcazar - Goodreads
"…my top score of 5 fingers up & 10 toes for this quickie EXTRAVAGANZA OF NAUGHTY DOMINANCE!" — Patty McKenna Van Hulle - Goodreads
Latest Release!
Posted by: Tory Richards
2015-05-20 -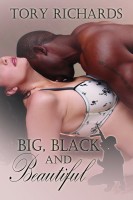 Big Black and Beautiful
Shellys brother is away fighting war and asks his best friend Tony to look out for her while he is gone. That means Tony needs to be on his best behavior and hands off for them both. But Shelly has had her eyes on the sexy exMarine for a long time and she is about to make him hers!
An All Romance Ebook Best Seller!
http://www.amazon.com/Big-Black-Beautiful-Tory-Richards-ebook/dp/B00V46MYZI/ref=asap_bc?ie=UTF8
Club Aegis 2: Love Is Danger by Christie Adams
Posted by: Christie Adams
2015-05-20 -
Club Aegis 2: Love Is Danger by Christie Adams
Having only just dumped her lecherous, two-timing boyfriend, Stacie Matheson never expected, when her car broke down in a storm, to be rescued by a tall, blond-haired, blue-eyed knight in a shining Jaguar. Cam is everything her ex was not – and more besides.
Now that his old friend Alex has settled into married life with his submissive, Beth, Cameron Fraser is ready to surrender his single status. What he isn't ready for is being blindsided by a beautiful, curvy damsel-in-distress.
Fate has brought them together – the Dom who needs a submissive, and the woman who takes her first steps into the world of submission at his side. However, there's more to Cam's life than the sensual games he plays with Stacie. When that life intrudes on their relationship, neither is prepared for the devastating consequences.
Read an excerpt and buy your copy here
A Wolf Awakens by Cam Cassidy
Posted by: TRS Staff
2015-05-20 -
A Wolf Awakens by Cam Cassidy
Death is not always an ending.
When the dreams first began, Angeni Sweet thought they were just that…dreams. Born with the gift of a medium, she quickly realized the truth—when she last entered the spiritual world, something returned inside her. Waking with bruises and daytime flashes of pain, the dark spirit makes himself known. His face, his name, a place. He leads her, and she has no choice but follow.
Believe in nothing.
Despite living in Los Lobos his entire life, Jaxon Boone has few things he believes in—his favorites being cold beer and hot women. Those beliefs change. When Drew demands he take the beautiful stranger, Ange, to an isolated cabin in the woods for the good of the pack, he learns that the things not seen are the most powerful.
The battle begins.
Fighting against the malevolent spirit of Magnum as he tries to push his way back to world, Ange fears it won't be enough. Will Jax find the belief in needs in time to save not only the pack but the woman that quickly becomes the center of his world?
Much Ado Abount Miners by Jacquie Rogers
Posted by: TRS Staff
2015-05-20 -
Much Ado Abount Miners by Jacquie Rogers
The fourth novel in the Hearts of Owyhee western romance series!
Cupid's bullet…
Hired gun Kade McKinnon interrupts a bank holdup and is shot by the teller, Iris Gardner, whose victims have a tendency to be the next groom in town. Will he be the groom this time?
Cupid's bow…
Iris Gardner, a smart, independent bank clerk, fell in love with Kade when she was too young to know better. So when he walks back into her life and her bank, it's only fitting that she shoots him … by accident, of course.
Cupid's blindfold… Kade doesn't know Iris's company is the one who hired him to escort a bullion shipment, and Iris doesn't know Kade owns the security company, but they both know robbers are on their trail. Which is more likely to be stolen—the silver, or his heart?
Lost Wishes by Kelly Gendron
Posted by: TRS Staff
2015-05-19 -
Lost Wishes by Kelly Gendron
New Release!
He's ruthless. She's relentless.
Together, they are boundless.
Fallon O'Conner is ruthless...
Each day comes and goes without meaning He eats, sleeps, and waits The time is nearing to confront his wife's killer And nothing will stop Fallon from getting his revenge. Then, Katie Rustle comes crashing into his forsaken life...
Katie Rustle is relentless...
Her boss needs something Fallon O'Conner has it And Katie is just the person to get it She's no stranger to bad-tempered, cruel, heartless men. A man corrupted by the loss of a loved one raised her.
All the latest happenings >>
---

Could he kiss her without biting her? With the blood hunger riding him, could he stop himself from trying?
---

Wings of the West Series -- New Editions Available in Digital!
---

Giving over control isn't so easy when you know doing so could cost the woman you love her life.
---
---

The King of Sarafin has met his match in Ms. Riley St. Claire from Earth.
---

In anticipation of the June release Gambling On A Dream, Kensington Publishing has put Books 1 and 2 on sale!
---

www.StephanieQueen.com
---
---
---

Discover what happens when a woman finds a Scottish werewolf imprisoned in a thousand-year old dungeon. Magic, mayhem, a lot of kick-ass action and some sexy hijinks of course.
---
---
---
---
Seducing Liselle
Marie E. Blossom
contemporary, romance, rubenesque
Publisher: Evernight Publishing
ISBN: 9781771303217
Price: $3.99
Book length: novella
Release date: March 14, 2013
Available formats: epub, html, pdf, prc

Liselle isn't looking for a hero, especially not at the ripe old age of forty-three, but when John saves her from a blizzard, she can't help falling just a little bit in love. He's sexy, strong, and ex-military, with a sassy niece and four older sisters who clearly adore him. Even so, looks alone aren't enough to convince her that he can be trusted. After all, her brother and father tormented her for years—she knows better than to think a man can make her happy. When John comes to her rescue, will she let old habits rule? Or will she let him heat her up and melt the fear in her heart?
Read an excerpt:
http://marieeblossom.com/books/seducing-liselle/seducing-liselle-excerpt/
Visit the author on the web: http://marieeblossom.com/
---


Dream Weaver by Shirley Martin
Sent back in time, Gwen must save her lover's life. She failed him once before. She can't fail him again. Available in ebook and print!
Read more


Night Secrets by Shirley Martin
A man and a woman who fear to love each other must save the kingdom from betrayal.Available in ebook and print!
Read more


---
---



Terry Odell

Can a feisty security agent who hates taking orders and a covert ops specialist who has something to prove, put aside their own differences and their own agendas long enough to uncover the secrets of Windswept Heights?
---

Every book is first judged by its cover. What do you want yours to say?
---
Running away from a fiancé who betrayed her, Peyton O'Malley finds employment at a beautiful bed and breakfast inn called Rest Thy Head. She didn't expect to live in the haunted room or to fall for the inn's owner, a fire-scarred, war veteran who uses the inn to hide away from the world. She didn't expect her sister to show up at Rest Thy Head either, much less her formidable mother.

Now, thanks to the aid of a friendly ghost, Peyton has a shot at true love, and so does her sister Ashley, provided the guys cooperate of course.
---
---

Kilted Desire series: Hot Scot love stories and adventures.
---



Jami Gray

Sometimes death is the only way to out run the past...

A reluctant psychic who can relive the past, a man well versed in keeping secrets, and a psychopathic killer enter a deadly game where the past determines the future.
---

Stolen Desire: Heather wakes up a prisoner after Storm's ship explodes. Heartbroken, she needs to figure out how to escape and reverse Storm's death.
---
Billionaire Trent Sherbrooke works hard and plays harder. He's never once cared what the media or society says about him, until now. Intent on making his way into the United States Senate, Trent hires campaign advisor Marty Phillips. A ruthless force in politics he'll stop at nothing to get his candidate elected.

After a chance encounter throws local small business owner Addison Raimono in Trent's path, Marty believes he's found Trent's ticket into Washington.

Ignoring his conscience that insists he leave Addison alone, Trent sets out to win her over. Soon what he assumed would be a relationship to salvage his reputation turns into so much more. But can a relationship started on a lie ever survive?
---

Will her dangerous gamble pay off? Raunchy Regency Romp short-listed for a 2012 Australian Romance Readers' Award.
---
Karen Kay

Their passion is thunder and lightning. Their fate could be a flood of sorrow.

The Lost Clan, Book 3

Red Hawk's most precious childhood memory is of a single morning with a girl whose beauty seemed lit from within with magic. Now, years later, she could very well hold the key to a centuries-old curse—but when his visions lead him to her again, no recognition lights her eyes.

At age twenty-five, Effie Rutledge has missed her chance for marriage, but the daughter of a renowned archaeologist would rather get her hands dirty on a dig than cleaning up after some man.
---
---

www.amberquill.com
---

A single act of infidelity - a lifetime of forgiveness
---
Kathryn R. Blake

Elly Benson struggled to be the properly submissive wife her husband desired. She tried to do everything he asked of her, until he convinced her she could never be the perfect woman he expected and demanded by nearly killing her.

As a vet, Jerry Douglas recognized signs of abuse when he saw them. Elly Benson, however, was a married and consenting adult who insisted all her bruises and welts were nothing more than a simple misunderstanding between her and her husband, until the day Arthur Benson took his authority and discipline one-step too far.
---
---

Fill your future with Desire
---

How much would you give up for a shot at fame?
---
Brenda Whiteside

Lacy Dahl never questioned her past until the deaths of her adoptive parents and her husband. A husband who wasn't what he seemed. Her research uncovers secrets about the mother she never knew; secrets that dispute the identity of her father and threaten her life.

Sheriff Chance Meadowlark is still haunted by the murder of his wife and the revenge he unleashed in the name of justice. When he meets Lacy he is determined not to become involved, but their pasts may make that impossible. As they move closer to the truth, saving Lacy may be his only salvation.

Lacy begins to think the present is more important than her past... until Chance's connection to her mother and a murder spin her deeper into danger and further from love. Will the truth destroy Lacy and Chance or will it be the answer that frees them?
---
---
---
Light My Fire, part of the Harlequin E Contemporary Box Set: Volume 2.

Lily MacIntyre's life is offtrack, and she knows exactly how to right it: shed her America's sweetheart image in a big way. Getting down and dirty in a limo with rocker Nate Lansford seems like the perfect solution. Plus, she's had a mad crush on him practically since birth. The only problem? Nate is her brother's best friend... and he doesn't see her as anything other than a surrogate little sister.
---

During the full moon, a killer stalks for prey amongst the shifters. Tempers rise, lust explodes, and one woman is the center of it all.
---
Dancing in the white room is slang for skiing or boarding in deep powder snow. The dancer is PD Bell, one of the best extreme skiers on the planet. Mallory Prescott, the woman who lives with him and loves him, is used to Bell's exploits. A patrol woman at Whiteface Mountain near Lake Placid, New York, Mallory is no stranger to risk. But this time Bell is taking on the West Rib of Denali, highest and most dangerous mountain in North America. It's a descent that has never been done, though it's been tried. Five years ago, Bell had tried it. The attempt nearly killed him. Five years ago, he promised Mallory he wouldn't try it again.

Over the six weeks in which he's gone, Mallory begins to question her relationship with Bell. Does he really love her? Is he in it for the duration? What has loving him cost her? Mallory's life choices are thrown into stark relief when her daughter Emily takes a terrible fall. Together with her life-long friend Creech Creches, she must work her way through a maze of uncharted territory at a hospital miles from home.

Dancing in the White Room is the story of the love we keep, the price we pay for that love, and the forgiveness it takes to hold on to what is precious.
---
Dancing with the enemy

The Indian Tycoon's Marriage Deal is a contemporary romance set in India. The protagonists are very modern in their outlook and world view and yet have traditional Indian values. It's a classic revenge trope with a family twist. Maya needs justice and she will do anything for revenge against the man who ruined her father. Krish is her enemy's son and though he doesn't know about his father's crimes, he feels conflicted as apart from being an independent self-made person, he's also one who will not shy away from being there for his family. When Maya and Krish arrange their own marriage -- to serve their own personal agendas—there is conflict all around. Can love overcome all obstacles? And what happens to Maya's need for revenge?
---
---
Join The Romance Studio at Yahoo Groups:
---
Join The Romance Studio BLUE at Yahoo Groups:
---
Join The Rainbow Studio at Yahoo Groups:
---
Awards
---
We proudly support...
---
Our friends
---
Official Review Site for:
---
Join the Web Ring!
Powered By Ringsurf
Yes, all the links like next 5, random, etc are gone. It's a new format to the web ring from Ring Surf. Just join and ad the code given your romance genre related web site, blog, MySpace, etc.
Who can join? Anyone who enjoys TRS and the romance genre and books we love. You can be a reader, rabid fan, wanna be writer, established author, agent, editor, publisher, cover model, cover artist, and more. You're all welcome! Join today and let's create the biggest and best web ring in our genre.

Cadence is a tough chick with an eagle eye. Brody doesn't care; he wants her off the Sheriff's Emergency Response Team.

A mechanic, a widow, a broken-down car. Sometimes life's purpose is found by accident.

New release in the award-winning Wounded Heroes Series!

Vach Namaste has desired the Earth woman Maya. He makes plans to take her as his bride... willing or not.

How does a woman tell her betrothed that she murdered her first husband?

One look at the bad-boy doc and Shelby wants to send him straight back! Taylor is the last thing she needs, but everything she wants!

On sale for $.99! She can steal his treasures, but can she steal his heart? The Saint's Devils, Book One.

Animal Instinct by Lynette Endicott & Tami Dee

Book 1 – Sisters of Colford Hall
Now Published by Montlake/Amazon Publishing
He came for revenge, but found Magic instead
Sale 1/17 only - $2.99 Kindle!

Survival Instinct by Lynette Endicott & Tami Dee

Chameleon's Shadow by Tami Dee

A collection of tales, ranging from contemporary, short and chaste to paranormal, long and spicy.

Special Agent, Tracey Wittington, takes down wildlife traffickers, and ends up with a cougar deputy sheriff, who vows to protect her.

Five new Highland novellas by Bestselling Authors of Highland romances that will delight with mystery, intrigue, romance, drama and much more!

He is a Highland Wolf, assigned to watch out for another, who has an ex-fiance stalker and the sparks fly.

A stolen baby, a missing aunt, decades of secrets to unravel, and love lost and found.

Ashton's Secret blends romance and mystery with exceptional skill.  ~ Snippet from one of three Five Star Reviews

An unforgettable, powerfully intense and beautifully written contemporary romance. Runner-up in the 2014 Global Ebook Awards

I absolutely love this book...Emily and Eric are perfect for each other. ~ Five Hearts from The Romance Studio

A wild prediction, a moonlit waltz, and a forbidden kiss lead Charlotte Purcell and Lord Knollton to love and danger.

Book 2 – Sisters of Colford Hall
Now is Tradesize and Kindle from Montlake Publishing
Gayle Wilson Award of Excellence Winner

Four Times Virgin, A Regency Noir, a darker historical romance set in London.

Wicked Intentions by JoAnne Myers - a paranormal/mystery anthology PG-13.

The Crime of the Centry by JoAnne Myers - This 1982 double homicide shocked the Nation and destroyed families.

Escape to paradise with NYT & USAT Bestselling author Sandra Edwards in her latest modern-day, romantic fairytale.

4.5 Stars, RT Top Pick. "Clever writing style for a killer story."

Three Siblings. Three Marriages. Three Books. NYT & USAT Bestseller!

Agent Arin Thomas' life just got weird. She'll have to Shoot to Thrill just to stay alive.

Check out this controversial romance from NYT & USAT bestselling author, Sandra Edwards.

What does an F.B.I. Agent assigned to solve a double homicide do when he becomes the prey?

A notorious rake catches a beautiful thief stealing his valuable family heirloom. On sale now! Only $2.99 for a limited time.

Now is Tradesize and Kindle from Montlake Publishing

Would you risk it all if saving the life of someone you love would cost you your own humanity?

A gambler, a saloon manager, a kid who thinks he can have whatever he wants...disaster strikes...

Book 1 of the Moonlight and Jasmine series, Night Magic is available now from Secret Cravings Publishing!

She needs his protection. He needs the Elixxir. Secrets, lies, and love's loyalties tested. What price for immortality? What price for love?

With humans caught in a war between vampires and mages, three couples' love endures amidst the chaos.

Can Catherine accept the consequences of a great-aunt's dying wish without losing her heart or independence?

A detective determined to solve the murder of an ADA risks his life to protect the man's widow… the only woman he has ever loved.

A desperate mother. A Mexican drug lord. A dangerous match.

With humans caught in a war between vampires and mages, three couples' love endures amidst the chaos.

A four story collection of mystery, lies, deceipt, betrayal, and murder unleashed.

Can Jamie find a way to claim the lass he's loved for years without starting a war between three clans?

Roped, tied, and... A beautiful ranch foreman and a handsome Boston lawyer thrown together by an impossible will.

Six whores and a cook, a reluctant brothel owner, & a suffragist schoolteacher -- everyone's at cross-purposes at the Comfort Palace in Dickshooter, Idaho Territory.

"Deliciously seductive..." -- Lisa Renee Jones, NYT bestselling author of the Inside Out series

Can a bad reputation hide a good heart?

Arianna faces impossible choices. Friend or lover...life or death.

The passion between the three of them is worth fighting for. The 93rd Highlanders, Book Two.

A chance encounter with the woman who ran out on him leads Jess to gamble on love one last time.

Everyone has a secret. Be careful who knows yours.

Sometimes You Need to Let Go To Find Your Way -- A Cozy Holiday Romance Wonderful for Any Time of Year.

When we're inexplicably drawn to a particular person or certain place, is it coincidence or something more?

Do You Believe in Love at First Sight? A Humorous Story of Finding Love in Today's Modern World.

Will Mia Let Go of Past Obstacles and Open Her Heart to Love?

A heartwarming contemporary romance, set on the Yorkshire moors in England. Will Kate turn her back on love?

Have you ever felt that the grass is greener everywhere else? What would you choose? A Young Adult fantasy tale.

Can Jodie and Kevin work beyond troubling family circumstances and create a bridge made of love?

Zoey uses her own brand of whoop-ass to discourage a Warlord's pursuit.

The Vespian ambassador exudes pheromones that pushes people's emotions. If Heather is immune what makes her desire skyrocket whenever Storm's around?

This couple starts mentally sharing their orgasms with Kuarto, then a spaceship crashes nearby containing a beautiful pilot with amnesia. What's next?

One hot werewolf. One determined ghost. And a witch with a choice...

Their sweet harmony could tame the wrath of a god...or separate them forever.

11 tales of fantasy, intrigue, and mystery, entwined within the human world.

Gwen Spencer sails to France to nurse American soldiers -- and finds love with a British captain.

USA Today Bestseller! Contains The Wedding Wager, The Wedding Hazard, and The Wedding Venture. 4.5 stars

Jason needs a wife. Vicky is broke and desperate. A marriage contract should solve everything, right?

Megan leaves the hospital whole but in despair. Can Kevin heal her heart?

Yankee reporter Roxanne is accused of murder. Can she survive the weekend and Jefferson County's unique brand of Southern Hospitality?

Two Dads. Two Lives. Two Hearts. One Chance.

Lord Rampton is not unhappy when he's tricked into marriage, but is his bride a faithless diamond thief? Short-listed for an Australian Romance Readers Award.

A hero on thousands of romance covers; can Jamie be one for real when lives are on the line?

He'll fight drug lords, pirates and even gods to protect her.

Can their love survive a serial killer?

When professional lines are crossed, what's right vs. desire can become blurred.

What will Olivia do when Alex refuses to fall in love?

Callie doesn't expect to rekindle an old relationship with ranch hand, Murphy Reynolds.

How will Cayle be able to convince Becca that he can be more to her than just a protector?

He's ruthless. She's relentless. Together, they are boundless.

Will Laura and Richard also discover a passion neither counted on?

The portal between Hell and Earth is torn asunder, and it will take everything Camille Dutton has and then some to close it. But nothing worth everything comes without a price.

One locked safe, a troublemaking tattoo, two determined people, and a love that just won't stop.

HOT NEW SERIES. A series about three obstinate brothers and the three women who dare to break them.

Can Honour and Action Banish the Shadows of Old Sins? For Emily Micklen, marriage to taciturn Major Angus McCartney will salvage family honour. But while Angus may have won his heart's desire, the ghost of his dead mistress is only one of the secrets that may divide them forever.

A sensual tale-within-a-tale of a book, a baron and a beautiful bride-to-be.

Grab your copy while it's still $0.99!

Let's fall in love and into... An ALL NEW short story and three previously released short romance stories.
Terms of use/Disclaimer
Copyright © 2003 - 2011 theromancestudio.com
Site by Psyche Designs.