Happy Thanksgiving from TRS!
Posted by: TRS Staff
2014-11-30 - TRS will be closed with no staff available from 11/26/14-11/30/14 for the American Thanksgiving holiday. Thank you! We wish all of you and your families a safe and happy holiday season this year!



New Release & 99 cents sale!
Posted by: Anita Lawless
2014-11-27 -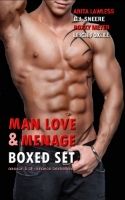 From Amazon & All Romance bestsellers the Wild & Lawless Writers! The heat of passion. Bodies entwined. Love against all odds. This boxed set includes man love and ménage titles from some of our bestselling series! First encounters and second chances. Alpha werewolf brothers collide over family corruption and the love of one man. Women get swept up in the worlds of decadent billionaires, and bad boys meet their match in powerful doms. Available On Kindle USAvailable On Kindle CAAvailable On Kindle UK



Kissa Under the Mistletoe by Courtney Sheets
Posted by: Decadent Publishing
2014-11-27 -



Professor Lucas Slate is sexy and smart and can have any woman in the world. What could he possibly want with his size fourteen best friend Kissa Nazir? When he asks her to go with him to London for the Christmas season, she thinks it is friendly moral support. But what she does not know is Lucas has other plans in mind for her.

For five years, Lucas has waited for a chance to show the beautiful bellydancer he can be more than just a friend. Not taking any more chances on her love, he will lie if he has to, cheat all the fates, and whisk her away for the holidays. One way or another, Lucas plans to live out his long-awaited fantasy. At the end of this holiday season, he is stealing more than a "Kissa Under the Mistletoe".

Read an excerpt and get your copy today!







The Earl and his Virgin Countess by Dominique Eastwick
Posted by: Decadent Publishing
2014-11-26 -



Lord Andrew Masterson, Earl of Windenshire has had a string of bad luck with women. While his best friends are all getting leg-shackled, he can't seem to get a lady to stay in his presence long enough to court them. Not sure what he might be doing wrong, he turns to Madame Evangeline, hoping she can help him change his luck.

Betrothed since before her birth to Lord Masterson, Miss Miranda Beauchamp has prepared to be his countess ever since. Although the Earl of Windenshire maintains her upkeep and pays for everything she needs, she might as well not exist for all the attention he pays her. Determined to break the marriage contract, she'll go to desperate measures to achieve her goal.

Can Madame Eve show Andrew and Miranda there is more than a contract between them? Or will family secrets and years of hurt be too much for the earl and his virgin countess to overcome?


Read and excerpt and pick up your copy today!








Thanksgiving Party @ TRS!
Posted by: TRS Staff
2014-11-25 -




We are celebrating the American Thanksgiving holiday with our yearly Thanksgiving Party! We are giving away a Amazon gift ecard (electronic gift card only, value $100 minimum) to one lucky reader and we are giving away a lot of other prizes from the TRS prize vault and participating authors too!

Featuring:



A Romance For Christmas by Kayelle Allen
A cop at the door on Christmas Eve brings an unexpected gift.



His Omega by AC Katt
Werewolf Armand stops for a hurt boy. He is Armands mate. There is one problem, someone means to kill Sean.



To Tame a Highland Earl by Tarah Scott
No gentleman breaks into a ladys bedchamber but then, no lady sleeps with a pistol under her pillow.



Hunter's Mark by V.S. Morgan
He is in danger of losing his heart and his life.

Where is it going to be held?

The event will be held exclusively at our PARTY SITE.

When is it going to be held?

From November 21-25, 2014. Times? All day!

When will the prizes be given out?

The winner of the gift card will be selected at random on November 26, 2014. Other prizes from TRS and its participating authors will be assigned at each donors earliest convenience following the end of the event.

Okay so HOW do I enter for the gift card?

Our authors will be posting during the event period at our PARTY SITE about their latest books and other entertaining topics. Comment on any of the posts at any time during the event (should be at least acceptable/polite comments because comments in poor taste may result in exclusion from the event), and fill out the gift card entry form that will appear at the party, and you will be entered into the drawing for the Amazon gift ecard.

How do I enter for the other prizes?

For other prizes donated by TRS and all participating authors, there will be easy to use giveaway forms at the PARTY SITE.

Which authors will be attending?

A.L. Cook, Albert Nothlit, Amanda Bretz, Anita Lawless, Ann Raina, Anne Kane, Ariel Storm, BJ McCall, Brita Addams, Carol Burnside / Annie Rayburn, Cate Masters, Christine Ashworth, Christine Murphy, Clover Autrey, E. Jamie, Eva Lefoy, Haley Whitehall, Izzibella Beau, Jenna Fox, Jewel Adams, Joan Chandler, Julia Talbot, Kate Hill/Saloni Quinby, Katie Bryan, Kayelle Allen, KC Vixen, Kimberly Dean, Kirsten Lynn, Kristina Knight, Kymber Morgan, Lacey Roberts, Laura Harner, Liana Laverentz, Linda L Picl, Linda Palmer, Lucy Felthouse, Maggie Adams, Margaret Tanner, Mary Hughes, Megan Slayer, Miriam Newman, Monica Burns, Naomi Bellina, Natalie Alder, Natalie J. Damschroder, Natasha Blackthorne, Paige Tyler, Palessa, Paloma Beck, Patricia W. Fischer, Rachel Brimble, Renee Michaels, Robyn Echols aka Zina Abbott, Roz Lee, S E Gilchrist, Scarlett Jade, Selena Illyria, Sharon Kleve, Shiloh Saddler, Susan Horsnell, Tianna Xander, Tina Donahue, Titania Ladley, Tory Richards, Tracey Alvarez, Vijaya Schartz, Wendi Zwaduk, Yolanda Ashton

We'd love to see you there!



New Release
Posted by: Shona Husk
2014-11-25 -
Silke is torn between the sensible choice of Captain Grady and the more dangerous attraction she has for the prisoner Vance. When disaster strikes ES Siren and threatens the lives of everyone on board Silke realizes that that sometimes no choice has to be made. Why should love have limits?

(Books 1-3 in the ES Siren are currently free)

Purchase links:
iTunes
Amazon
Kobo
Barnes and Noble





"The Serpent's Tooth" trilogy: Book Three by Kathy Fischer-Brown
Posted by: TRS Staff
2014-11-24 -
"The Serpents Tooth" trilogy: Book Three by Kathy Fischer-Brown
Faced with an impossible choice, Anne Marlowe is torn between her husbands love and the hope of her receiving fathers forgiveness. As American forces follow up on their tide-turning victories over the British at Freemans Farm and Bemis Heights, Peter is drawn deeper into the shady network of espionage that could cost them both their lives.
Is his commitment to "the Cause" stronger than his hard-won love for Anne? Will her sacrifice tear them apart again…this time forever? Or will they find the peace and happiness they both seek in a new beginning?
The Partisans Wife follows Anne and Peter through the war torn landscape of Revolutionary War America, from the Battle of Saratoga to British-occupied New York and Philadelphia, and beyond.
"I absolutely loved this book! The attention to detail was incredible…. From the actions and speech patterns of her characters to the way the settings were depicted, I could feel like I was living during the Revolutionary War, watching the story as it unfolded…." — Once Upon a Book
"… beautifully told with lots of detail and exciting pace. I found myself staying up late at night just to see what was going to happen next, and in the moments that I couldnt read I was always thinking about it. The Serpents Tooth Trilogy is an excellent read that you should not let pass you by!" —Unabridged Andra
Watch the trailer
Friends With Benefits by Jenna Bennett
Posted by: TRS Staff
2014-11-24 -
Friends With Benefits by Jenna Bennett
What Kaylee Carter needs, is a friend with benefits.
Health benefits, that is.
An accidental pregnancy has left her jobless and broke, with no money to cover her car payment or rent, let alone prenatal care and childbirth.
When next door neighbor Owen Taylor offers a marriage of convenience – room, board, and medical insurance – its an answer to prayer. But as they settle in together, Kaylee can not help but wonder what Owen gets out of the deal.
What Owen Taylor wants, is Kaylee Carter.
Nice guy Owen has been quietly pursuing Kaylee for months, but she has never given him the time of day. Now that he has gotten her into his life and his bed, he is not about to give her up.
But when Kaylees baby daddy comes knocking, what will Kaylee do? Does she choose her husband, or her babys father? The man who knocked her up… or the one who put the pieces together afterwards?
Playing the Game by Stephanie Queen
Posted by: TRS Staff
2014-11-24 -
Playing the Game by Stephanie Queen
On Sale for $.99!
The Snap on the Story
The "Priest" of basketball, superstar Barry Dennis, needs to get knocked down a peg and so-called "black widow" Roxanne Monet is the woman to do it–if she can keep herself out of jail after being accused of murdering her wealthy husband.
Since her disastrous marriage ended, Roxanne Monet has sworn off serious relationships with men. She has more important things to worry about, like no money, no job and accusations of murdering her wealthy husband. But when she meets superstar Barry Dennis and he challenges her to a game of seduction, she decides to play ball. When the game turns serious, she unintentionally exposes the legend to be a flawed man.
Barry Dennis picked the wrong woman to play games with when he decides to flirt with the enigmatic Roxanne. Being the best takes all he has. He can not afford to let anything or anyone interfere with his first and only priority—Basketball. But as the attraction between them heats up, he finds himself losing sight of his lifes game plan.
While the sports worlds microscope is trained on Barry's game and the media hounds Roxanne about her husbands mysterious death, the stakes are ratcheted up even higher when Barrys young daughter, Lindy is injured. Roxanne gives Lindy the attention she needs while Barry struggles to cope with the demands of his new priorities.
Can Roxanne rely on Barry to do more than play ball? She takes the risk and gives him the last thing she owns—her heart.
4.5 Star Review—Romantic Times Book Review "Reading Queen is an absolutely scrumptious experience. Readers will fall in love, get heated, laugh and have an energizing adventure. The story has sublime settings, smooth writing that melds into a well-developed plot and characters who come alive like Pop Rocks and carbonated beverages."
samcheever@samcheever.com
Posted by: Sam Cheever
2014-11-21 -




He just wants her to take life a little more seriously. She's decided he could have a point. Especially now that somebody wants her dead.

Dolfe Honeybun broke up with Blaise Runa because her party girl ways were driving him to distraction. Unfortunately, out of sight does NOT mean out of mind. And when his favorite party girl sees something she shouldn't and finds herself being chased by a cold blooded killer… reason shuts down and Dolfe's heart takes over. If only he can get to her in time!

Buy HoHo Honeybun Today!



All the latest happenings >>
---
---
---

"Flowers make the perfume of love stronger." A mysterious coin links five couples as they enter into marriages-of-convenience.
---

Hopes and wishes. And holiday kisses...the Season of Magic. Wrap yourself in the gift of love and forever after.
---

Scottish Highlanders, Regency Rakes, Civil War Spies, Mountain Men, Sexy Smugglers, & more are HEATING IT UP, One Hero at a Time!
---

Get a refreshing taste of inspiration only at Vinspire Publishing!
---
---

3 Bestselling Authors, 9 novels. Escape to Lovers' Lane for 9 emotionally fulfilling happily-ever-after stories!
---
---

Imagine a world of beautiful heroines and gallant heroes, of magic and romance.
---

Time After Time delivers the gallantry and passion of yesterday. Fall in love with these ten titles for only $.99.
---

Hello my name is Sophia Ashwood and I'm about to become a cliche.
---

A new BDSM series from Monica Burns -- alpha heroes who reluctantly submit to women strong enough to love them.
---
---

How much would you give up for a shot at fame?
---
Seducing Liselle
Marie E. Blossom
contemporary, romance, rubenesque
Publisher: Evernight Publishing
ISBN: 9781771303217
Price: $3.99
Book length: novella
Release date: March 14, 2013
Available formats: epub, html, pdf, prc

Liselle isn't looking for a hero, especially not at the ripe old age of forty-three, but when John saves her from a blizzard, she can't help falling just a little bit in love. He's sexy, strong, and ex-military, with a sassy niece and four older sisters who clearly adore him. Even so, looks alone aren't enough to convince her that he can be trusted. After all, her brother and father tormented her for years—she knows better than to think a man can make her happy. When John comes to her rescue, will she let old habits rule? Or will she let him heat her up and melt the fear in her heart?
Read an excerpt:
http://marieeblossom.com/books/seducing-liselle/seducing-liselle-excerpt/
Visit the author on the web: http://marieeblossom.com/
---

Fill your future with Desire
---
---



NJ Walters

She's run right into the arms of the big bad wolf.

Salvation Pack, Book 3

Considered an abomination for her inability to shift, Cherise Michaels has been on the run from her pack since she was a teenager. After her mother is murdered by her former packmates, Cherise is alone, grieving and out of options. Until a dream puts her on course toward her last hope -- Salvation, North Carolina.

She makes it to Salvation only to be cornered by her pursuers and then rescued by the biggest, baddest werewolf she's ever seen.
---
---
---

One New Orleans' tattoo shop. Eight ALL NEW stories about resolutions, kink, love and ink. Let the good times roll!
---
HE'S TRYING TO RECLAIM THE PAST

To keep the balance between good and evil at the court of Annwyn, Prince Felan ap Gwyn has two weeks to marry and take the crown. But he wants more than just power -- he wants love; a love he once had but was too stubborn to hold on to.

SHE'S STRUGGLING TO FACE THE FUTURE

It took years for Jacqueline Ara to put her life back together after Felan abandoned her. She's moved on, even if her heart still burns for him. But with war in Annwyn looming and death bleeding into the mortal world, Felan and Jacquie will need to heal old wounds and rekindle the passion that once welled between them... or face losing everything.
---
---

During the full moon, a killer stalks for prey amongst the shifters. Tempers rise, lust explodes, and one woman is the center of it all.
---



Jamie Farrell

After Natalie Castellano's marriage imploded on the field of the Husband Games in Bliss, Illinois, the Most Married-est Town on Earth, the last job she expected to inherit was planning the fiftieth anniversary of her hometown's unique Games. But with her mother's unexpected passing, that's exactly what Natalie's doing. And the position demands that she play nice with CJ Blue, the man who ultimately caused Natalie's marital demise.

Winning Bliss's Husband Games and being crowned Husband of the Year was the brightest spot in CJ's short marriage. Since his wife's untimely death, he's taken himself around the world, hiding from his grief. But now, family obligations have him trapped in Bliss, where he's been invited to participate in the Games and humiliate himself in the name of closure. The whole town wants him to play. The whole town, except one. And he can't decide what bothers him more -- that Natalie doesn't think he belongs in the Games, or that she's right.
---
---
---

Four short stories and one novella by L.K. Campbell
---
| | |
| --- | --- |
| With Theo facing deadly odds in a fight to the death, Sar makes a pact with Lash, agreeing to give Devlin another chance in return for Theo's life. Reforging her relationship with her handsome vampiric lover mends old wounds, even as Theo moves to regain Sar just for himself. But Devlin's old enemy Ulysses appears, taking Sar prisoner and burning Devlin badly in a surprise attack. Rescued at the eleventh hour by Lash, Sar nurses Dev back to health, Theo bristling at a distance. Yet Lash's own day of reckoning is here as his long life ebbs to a finale, leaving Sar to face the decision of offering him salvation, knowing that the price is her own humanity. | |
---

Mystery, intrigue, and romance--it's all here!
---

Will her dangerous gamble pay off? Raunchy Regency Romp short-listed for a 2012 Australian Romance Readers' Award.
---
Karen Kay

Their passion is thunder and lightning. Their fate could be a flood of sorrow.

The Lost Clan, Book 3

Red Hawk's most precious childhood memory is of a single morning with a girl whose beauty seemed lit from within with magic. Now, years later, she could very well hold the key to a centuries-old curse—but when his visions lead him to her again, no recognition lights her eyes.

At age twenty-five, Effie Rutledge has missed her chance for marriage, but the daughter of a renowned archaeologist would rather get her hands dirty on a dig than cleaning up after some man.
---

www.jennifermuellerbooks.com
---

How-to Blog for Writers of Erotic Romance and Erotica - Tips on Writing, Publishing, Promoting, Markets, Writing Books & More!
---
Kathryn R. Blake

Elly Benson struggled to be the properly submissive wife her husband desired. She tried to do everything he asked of her, until he convinced her she could never be the perfect woman he expected and demanded by nearly killing her.

As a vet, Jerry Douglas recognized signs of abuse when he saw them. Elly Benson, however, was a married and consenting adult who insisted all her bruises and welts were nothing more than a simple misunderstanding between her and her husband, until the day Arthur Benson took his authority and discipline one-step too far.
---

Will a 1Night Stand with her husband lead to love?
---

Funny, unique, witty & smart - the romantic comedy is back! --Edie Ramer, author of Stardust Miracle
---
Brenda Whiteside

Lacy Dahl never questioned her past until the deaths of her adoptive parents and her husband. A husband who wasn't what he seemed. Her research uncovers secrets about the mother she never knew; secrets that dispute the identity of her father and threaten her life.

Sheriff Chance Meadowlark is still haunted by the murder of his wife and the revenge he unleashed in the name of justice. When he meets Lacy he is determined not to become involved, but their pasts may make that impossible. As they move closer to the truth, saving Lacy may be his only salvation.

Lacy begins to think the present is more important than her past... until Chance's connection to her mother and a murder spin her deeper into danger and further from love. Will the truth destroy Lacy and Chance or will it be the answer that frees them?
---
---

www.amberquill.com
---

www.dreamspinnerpress.com
---
Light My Fire, part of the Harlequin E Contemporary Box Set: Volume 2.

Lily MacIntyre's life is offtrack, and she knows exactly how to right it: shed her America's sweetheart image in a big way. Getting down and dirty in a limo with rocker Nate Lansford seems like the perfect solution. Plus, she's had a mad crush on him practically since birth. The only problem? Nate is her brother's best friend... and he doesn't see her as anything other than a surrogate little sister.
---
---
---
Dancing in the white room is slang for skiing or boarding in deep powder snow. The dancer is PD Bell, one of the best extreme skiers on the planet. Mallory Prescott, the woman who lives with him and loves him, is used to Bell's exploits. A patrol woman at Whiteface Mountain near Lake Placid, New York, Mallory is no stranger to risk. But this time Bell is taking on the West Rib of Denali, highest and most dangerous mountain in North America. It's a descent that has never been done, though it's been tried. Five years ago, Bell had tried it. The attempt nearly killed him. Five years ago, he promised Mallory he wouldn't try it again.

Over the six weeks in which he's gone, Mallory begins to question her relationship with Bell. Does he really love her? Is he in it for the duration? What has loving him cost her? Mallory's life choices are thrown into stark relief when her daughter Emily takes a terrible fall. Together with her life-long friend Creech Creches, she must work her way through a maze of uncharted territory at a hospital miles from home.

Dancing in the White Room is the story of the love we keep, the price we pay for that love, and the forgiveness it takes to hold on to what is precious.
---

A single act of infidelity - a lifetime of forgiveness
---
Dancing with the enemy

The Indian Tycoon's Marriage Deal is a contemporary romance set in India. The protagonists are very modern in their outlook and world view and yet have traditional Indian values. It's a classic revenge trope with a family twist. Maya needs justice and she will do anything for revenge against the man who ruined her father. Krish is her enemy's son and though he doesn't know about his father's crimes, he feels conflicted as apart from being an independent self-made person, he's also one who will not shy away from being there for his family. When Maya and Krish arrange their own marriage -- to serve their own personal agendas—there is conflict all around. Can love overcome all obstacles? And what happens to Maya's need for revenge?
---

Every book is first judged by its cover. What do you want yours to say?
---

Download three fantastic FREE paranormal romance ebooks and discover three amazing new worlds that will have you hooked.
---
---

Irresistible stories of physical passion and undying love from contemporary romance to far worlds and the paranormal.
---

Umbral Press - Stories from Shadowed Places. http://www.umbralpress.com
---
---
Join The Romance Studio at Yahoo Groups:
---
Join The Romance Studio BLUE at Yahoo Groups:
---
Join The Rainbow Studio at Yahoo Groups:
---
Awards
---
We proudly support...
---
Our friends
---
Official Review Site for:
---
Join the Web Ring!
Powered By Ringsurf
Yes, all the links like next 5, random, etc are gone. It's a new format to the web ring from Ring Surf. Just join and ad the code given your romance genre related web site, blog, MySpace, etc.
Who can join? Anyone who enjoys TRS and the romance genre and books we love. You can be a reader, rabid fan, wanna be writer, established author, agent, editor, publisher, cover model, cover artist, and more. You're all welcome! Join today and let's create the biggest and best web ring in our genre.

11 tales of fantasy, intrigue, and mystery, entwined within the human world.

Sam discovers the ghost Harrison who becomes corporeal for the summer solstice. Warm friendship becomes powerful love lasting beyond death.

Can love withstand an inevitable collision of cultures and customs? Or will it end at the hands of a madman?

He's not interested in a holiday fling, but the moment he met the housekeeper, he had to have her.

When Lindy's life is on the line, can her truemate save her in time?

To protect the woman he loves, Former Navy SEAL, Malik Lewis, is hunting a killer whose skills match his.

She wielded a power to save kingdoms, but only his love could save her soul.

Death defying battles where Joshua and Alexandria fight for their lives, their love, and the incredible friends and family they cherish.

When Madame Eve brings them together for a 1Night Stand, will they be able to come in from the cold at last?

Gwen Spencer sails to France to nurse American soldiers -- and finds love with a British captain.

A story of unwanted attraction, anger and regret, passion and redemption. And all-encompassing love...

She fell in love with a Dom from another planet – Prince of the Universe.

A collection of six folklore retellings that will twist your mind and claim your heart.

The Dark Huntress meets a man whose electrifying power is a fine match to her own...

Can Sarah deal with a cop who gets called away at a moment's notice, especially one who won't talk about his job?

Jason needs a wife. Vicky is broke and desperate. A marriage contract should solve everything, right?

USA Today Bestseller! Contains The Wedding Wager, The Wedding Hazard, and The Wedding Venture. 4.5 stars

Megan leaves the hospital whole but in despair. Can Kevin heal her heart?

How can she save her family when she can't resist the vampire's allure?

Can three hardheaded brothers come together to save the angel they love? Or will she be taken away?

Kin to the Wolf And Brother to Man Inside, Every Man Holds a Darkness.

When Maxie's world turns upside-down, she latches onto Zac for support.  It's just pretend, but soon nobody wants to stop.

On the run, Mac and Eve must learn to trust each other again in order to stay alive.

What will Olivia do when Alex refuses to fall in love ?

How long will a killer wait to get the one victim he always wanted?

A hero on thousands of romance covers; can Jamie be one for real when lives are on the line?

Now in Print. They are soul mates, but knowing that might not be enough to overlook their pasts for a future together.

What will Olivia do when Alex refuses to fall in love ?

Lord Rampton is not unhappy when he's tricked into marriage, but is his bride a faithless diamond thief? Short-listed for an Australian Romance Readers Award.

How will Cayle be able to convince Becca that he can be more to her than just a protector?

The portal between Hell and Earth is torn asunder, and it will take everything Camille Dutton has and then some to close it. But nothing worth everything comes without a price.

Jess, her dog and $100,000 in stolen drug money on the run ends up in Satisfaction Texas.

Will Laura and Richard also discover a passion neither counted on?

A New York Times & USA Today Bestseller. Includes: The Marriage Bargain, The Marriage Caper, The Marriage Fix.

Can Honour and Action Banish the Shadows of Old Sins? For Emily Micklen, marriage to taciturn Major Angus McCartney will salvage family honour. But while Angus may have won his heart's desire, the ghost of his dead mistress is only one of the secrets that may divide them forever.

Armed with the Kama Sutra, Evan sets out to seduce his reluctant bride into passionate surrender.

When the god of Envy falls for a mortal woman, will love tame their demons, or will all Hell break loose?

A hunted woman, a forbidden love and time ticking down on an ancient curse.

She wonders whether they can put the contract aside and enter into a true marriage?

Will Miguel's love for Danielle prove strong enough to forget her deception?

Zyre is left the choice of whether to pursue the dangerous decision of revenge, or give into the obsessive love of another.

Navy SEAL Bjornolf Jorgenson has had tough missions before, but going undercover with feisty gray wolf Anna Johnson could top the list.

"This novella ...offers...suspense, and mystery all wrapped up in an intriguing Sci-Fi plot that grabs the reader from beginning to end." Midwest Book Review

"Clearly this author knows how to tell a story no matter what the genre. Her character development, pacing and humor satisfy across genre boundaries." Mostly Fiction Reviews

Are you ready for this Boarding School?

He had given up on love -- she had given up on life. Not Really Mr. Smith -- a unique love story.

Sarah Templeton finds romance when she visits her brother's best friend's dive resort on the tropical island of Cozumel.

The Memory Bouquet ~ Where the past and present collide.

Armed with the Kama Sutra, Evan sets out to seduce his reluctant bride into passionate surrender.

You've heard only one vampire's side of the story...until now.

Jacelyn Montgomery-Allison's first mistake was falling in love with Nick Corso. Her second was marrying another man.

When the hunter becomes the hunted, there is nowhere to run.

How far will Sarelle O'Connor go to keep her secret desire hidden from those who love her most?

He rescued her from slavery ...now he is captive to desire.

The story of a man with a terrible secret from his past, and the woman who teaches him that love truly can conquer all.

The unearthly beautiful music Krys hears each night stirs her soul to romance. Can its creator heal her broken heart?

The story of two people so busy hiding their secrets, they must learn love can only flourish out in the open.

No one said anything about forever.

The story of two damaged people—one physically, one emotionally—who overcome their distrust of one another and discover love.

When your love for someone is tested, how do you get beyond the silence and pain to get back to what made you become an us...

Faith's life has always balanced in two worlds—the normal human world and the supernatural. Now she has to choose between the two.

When faced with your destined bond you either accept or face the consequences.

A man who encompasses both the world of light and dark will engage your senses before you ever meet. His battered soul craves to match with yours.

Truck driver, hot romantic fling, when she discovers he is her new employer, conflict arises. Will their love survive?

An unlikely pair comes together and realised that their expectations of each other leads to an intense passion that will enhance them both.

Solving a double homicide, proves to be pure murder for the dangerouly handsome F.B.I. Agent Walker Harmon.

The Truth About Fairy Tales - Book Two of Heart Of Texas Series. The Rebel Rancher - Book One

Ten full-length romance novels by ten of your favorite authors, all for one low price!

McKingley Volume 3 by McKenna Jeffries

AMAZON Top 100 Bestseller. Matchbaker, Matchbaker, bake me a match?

The end of a curse hides behind a riddle -- and the final clue in the heart of a woman.

It's one thing when Jasmine manifests dead things. It's something else when they start to walk and talk.

Can a Boston lawyer tame a wild filly? Romance in the Owyhees.

Archaeologist Jessica Carter discovered Atlantis and the love of Xerxes, the Lord of Atlantis. With her discoveries come perilous dangers only Xerxes can save her from.

Which marshal should Daisy marry? Romantic romp in the Wild West!

What's a woman to do when she unwittingly makes a tantalizing proposition to her best friend? Be brazen, bold and set some ground rules.

A passionate tale of revolution, redemption, & the healing power of love. "We are in awe. Dark, emotionally devastating, sensual." -- Divas Book Blog

Can Mike convince Winter to put aside her fears and take a chance on him?

Caught between two worlds, Elisabetta will do whatever it takes to survive. Can William win her trust and heart?

Simone Banks finds more than Bakken oil when she travels to Brent Talbot's North Dakota ranch.

Will ancestral memories hold the key to freedom, or overwhelm Allison and Sean with fear?

Who knew a Coletti warlord would think being zapped with a cattle prod was foreplay?

Cadence is a tough chick with an eagle eye. Brody doesn't care; he wants her off the Sheriff's Emergency Response Team.

A mechanic, a widow, a broken-down car. Sometimes life's purpose is found by accident.

A sheriff up for re-election tangles with a beautiful court artist intent on avenging her sister's death.

New release in the award-winning Wounded Heroes Series!

Five award-winning books for one low price!

Megan finds herself in a hot mess of passion, love and murder. Now its left up to Jack to try to prove her innocent.

Reese is saddled with six whores and a suffragist. What a ride!

Camille must go on a journey into the mists of time, to find and awaken the Merlin.

The MacKyrie Seer negotiates for the stubborn Lathan Arms Master's help to save her struggling clan, but Donal MacNabb will not be anyone's pawn.

Studs and Stillettos by Bev Pettersen

Vach Namaste has desired the Earth woman Maya. He makes plans to take her as his bride... willing or not.

How does a woman tell her betrothed that she murdered her first husband?

On sale for $.99! She can steal his treasures, but can she steal his heart? The Saint's Devils, Book One.

One look at the bad-boy doc and Shelby wants to send him straight back! Taylor is the last thing she needs, but everything she wants!

Will she risk her life and go to them despite facing the possibility her actions could lead to Matt's death?

When an independent, blue-blooded heiress is placed in protective custody with a controlling, blue collar cop, the sparks fly.

Book 1 – Sisters of Colford Hall
Now Published by Montlake/Amazon Publishing
He came for revenge, but found Magic instead
Sale 1/17 only - $2.99 Kindle!

Animal Instinct by Lynette Endicott & Tami Dee

Sam knew he'd have to help Riley Morgan. She was an innocent with a big problem that might get him killed!

A romantic standalone shifter novel about two men who begin as enemies & find their way together. Only $4.99!

Chameleon's Shadow by Tami Dee

Survival Instinct by Lynette Endicott & Tami Dee

A collection of tales, ranging from contemporary, short and chaste to paranormal, long and spicy.

Former CIA counter-intelligence officer, Alandra Pargas, and U.S. Special Operative, Quinn Hamilton join forces…in more ways than one.

Marohka Taunton refuses to see why she should marry even if the law requires she take a mate.

Everyone Has a Bit of A Beast.

Where the hottest men fulfill your steamiest fantasies, and they are there for your pleasure only...

When friends marry to secure a child's safety, kisses for show awaken desires impossible to ignore.

She's tantalizing... tempting...and taken. Tastes of Seduction, Book 2.

Power, Family, and Loyalty: The coveted three can join a shifter and Valkyrie in love or tear them apart forever.

Three very different women fall under the spell of men from a family of sorcerers in the steamy Louisiana country.

The unexpected often brings the heart exactly what it needs. Sexy, sassy romance with southern charm. Emotional. Humorous.

Two people who fear to love each other must work together to save the kingdom from evil.

Sent back in time, Gwen must save her lover's life.

More heat, more heart, more SIZZLE!

From five bestselling authors comes five brand new novellas sure to heat up the night.

Five tales of futuristic romance from five mistresses of the genre. Available for a limited time!

'I always enjoy Jewels of the Quills Treasure Trove anthologies. The characters are easy to connect with and invoke imagination. It's hard to pick out a favorite as they're all terrific.' ~Readers Favorite

Four tales of paranormal and urban fantasy, from sweet to sinful. Shape shifters, witches, reapers, protectors, find them all here.

Ashton's Secret blends romance and mystery with exceptional skill.  ~ Snippet from one of three Five Star Reviews

A stolen baby, a missing aunt, decades of secrets to unravel, and love lost and found.

An unforgettable, powerfully intense and beautifully written contemporary romance. Runner-up in the 2014 Global Ebook Awards

I absolutely love this book...Emily and Eric are perfect for each other. ~ Five Hearts from The Romance Studio

Book 2 – Sisters of Colford Hall
Now is Tradesize and Kindle from Montlake Publishing
Gayle Wilson Award of Excellence Winner

How is he going to hold onto the wild-cat woman without losing his heart to her and then losing her as well?

A nightclub owner struggles to makes peace with her vampire family, destiny, and soul mate. Vampires, love, mayhem...join the club.

Unlikely suspects with misunderstood agendas cripple the horse industry and leave everyone to question the motivation behind the senseless killings.

Four Times Virgin, A Regency Noir, a darker historical romance set in London.

Can Julia heal Ruíz and help him save their family vineyard in the aftermath of the Texas war for independence?

Even a Fairy Godmother can make the wrong call...

Wicked Intentions by JoAnne Myers - a paranormal/mystery anthology PG-13.

She wasn't looking for a new lover. He wanted more than money could buy.

When this unusual shifter female comes into his pack's territory, it's Tom Silver's job to protect her -- if only she would let him.

The Crime of the Centry by JoAnne Myers - This 1982 double homicide shocked the Nation and destroyed families.

Kelly Ray had never done a double take in her life, until now.

Escape to paradise with NYT & USAT Bestselling author Sandra Edwards in her latest modern-day, romantic fairytale.

Three Siblings. Three Marriages. Three Books. NYT & USAT Bestseller!

Check out this controversial romance from NYT & USAT bestselling author, Sandra Edwards.

A woman with a dangerous past risks everything to claim the pack destined to be hers...if she can keep them all alive long enough.

Falling in love might be the most dangerous thing they've ever done...

A notorious rake catches a beautiful thief stealing his valuable family heirloom. On sale now! Only $2.99 for a limited time.

Discover what happens when a woman finds a Scottish werewolf imprisoned in a thousand-year old dungeon. Magic, mayhem, a lot of kick-ass action and some sexy hijinks of course.

Now is Tradesize and Kindle from Montlake Publishing

Can Erin unlock the heart of a hot alpha Hell's angel bent on revenge? Find out in the latest Her Angel series book. http://www.felicityheaton.co.uk?

Would you risk it all if saving the life of someone you love would cost you your own humanity?

A powerful vampire lost deep in bloodlust. A woman willing to risk all to redeem him. Can beauty save the beast? Find out http://www.felicityheaton.co.uk

She needs his protection. He needs the Elixxir. Secrets, lies, and love's loyalties tested. What price for immortality? What price for love?

Book 1 of the Moonlight and Jasmine series, Night Magic is Coming to Secret Cravings Publishing on April 9.

Felan and Jacqui will need to heal old wounds for one last gamble. It's all or nothing to save both worlds.
Terms of use/Disclaimer
Copyright © 2003 - 2011 theromancestudio.com
Site by Psyche Designs.